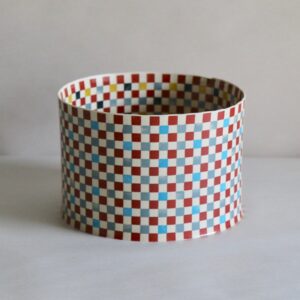 During this hands-on workshop, Lydia Johnson will guide participants through a variety of methods of exploring pattern and form with colored clay slabs. Lydia will share her unique process of using colored clay, colored slips & stencils to create patterned ceramic tableware. Through a series of demonstrations and creative exercises, students will learn how to make printed, hand built forms using colored clay. Throughout the two and a half days together, Lydia's instruction will focus on technique and process, along with her design approach and philosophy.
Workshop Dates: September 13 to 15
Fee: $285 (includes breakfasts & lunches)
Optional Housing: $40/night
REGISTER
About Lydia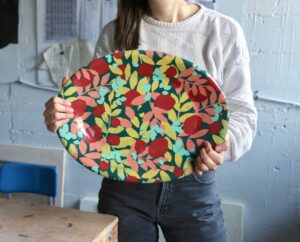 Lydia Johnson is a ceramic artist and designer who works full time in her studio in Manchester, Connecticut. Her work has been exhibited across the country at galleries such as The Clay Studio, Northern Clay Center, Arrowmont School of Arts and Crafts, Lillstreet Gallery, and Artstream Nomadic Gallery. She was the recipient of the 2017 Individual Artist Fellowship from the Tennessee Arts Commission. This spring, Lydia will be a demonstrating artist at the Florida Heat Symposium. She will also be showing work in Tokyo, Japan, and at the Architectural Design Digest show in New York City. Visit Johnson's website or Instagram account for more examples of her work.
Materials to Bring
basic & favorite clay tools (sponge, wire, soft rib, metal rib, needle tool, knife)

4 – 6 paint brushes to use for painting slip (1/2" – 1" water color brushes work well)

pony roller (small brayer)

x-acto knife with at least 5 – 10 replacement blades

small cutting mat

scissors

glue stick

ruler

pencil(s)

sharpie

1 flat cotton bedsheet that will be cut up and used for hand building (a couple bucks at

the thrift store)

2 or 3 hand towels

hard copy pattern inspiration (check out Pinterest!)