New York University ceramics professor Judith Schwartz invites you to the fifth biennial Clay Forum in NYC. During the Forum, keynote speaker Mark Burns will share his work during an artist talk. Artist Ron Baron will give a demonstration, and artist Julia Kunin will share about her experience working in the Zsolnay Ceramics Factory in Budapest, Hungary.  A limited number of attendees will have the opportunity to give 5-minute presentations on their own work, program or research. 
All participants are invited to enjoy light refreshments, beverages, and conversation following the presentations. Proceeds from the Forum benefit Watershed's programs.
Date:
Saturday April 8, 2017, 1:00-6:30pm
Location:
NYU Department of Art
The Barney Building, Einstein Auditorium  
34 Stuyvesant St., NYC 10003
Registration Fee:
$50; $25 for students
REGISTER

About the Presenters: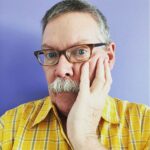 Mark Burns earned his MFA in Ceramics from the University of Washington where he studied with Howard Kottler, Patti Warashina, and Robert Sperry. Burns infuses his work with a keen sense of ceramic history and pop culture, which he uses to express complex cultural notions of sexuality and identity.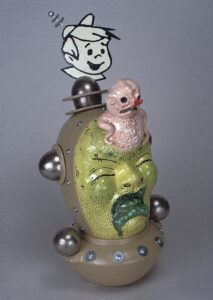 Burns has taught at many distinguished institutions for visual arts, including The University of the Arts, The School of the Art Institute of Chicago, Rhode Island School of Design, and University of Nevada, Las Vegas, where he served as Department Chair. Most recently, he was a visiting artist at the Ceramics Program for the Office of Fine Arts at Harvard University.
In 2013, Burns received the National Council on Education for the Ceramic Arts (NCECA) Excellence in Teaching Award.  His work is included in numerous national and international private collections and major museums.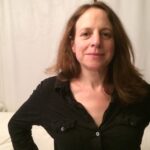 Julia Kunin earned a B.A. from Wellesley College and an M.F.A. from The Mason Gross School of the Arts at Rutgers University. She works across media, in drawing, collage, video, and ceramic sculpture. Her iridescent and organic forms suggest complex sea creatures and underwater flora while simultaneously referencing the human body and the grotesque.
Kunin has extensively exhibited her work nationally and internationally and is represented by Sandra Gering, Inc. Solo exhibitions include: Golden Grove at Barry Whistler Gallery, Dallas, TX in 2013, Nightwood at Greenberg Van Doren Gallery, NY in 2012, as well as Crimson Blossom at the Deutches Leder Museum in Offenbach, Germany in 2002.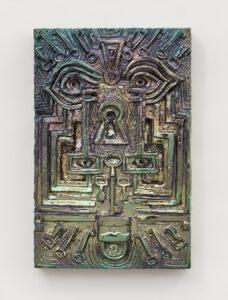 She divides her time between Brooklyn, New York and Pecs, Hungary. Her interest in the art and history of Hungary led to her receipt of a 2010 Trust for Mutual Understanding Grant and a 2013 Fullbright Scholarship to study the region's political history and esthetics via its ceramic work.
Residencies and fellowships have included: The MacDowel Colony, The Marie Walsh Sharpe Art Foundation, A CEC Artslink grant to The Republic of Georgia, The Bellevuesaal residency in Wiesbaden, Germany, Yaddo, The Millay Colony, The Vermont Studio Center, The Core Program in Houston, TX, Art Omi, and Skowhegan School of Painting and Sculpture.
Kunin was a member of the Women's Action Coalition, in New York, and is a founding member of the activist group "We Make America".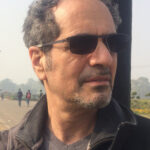 Ron Baron received a BA from the University of Wisconsin-Madison and MFA from the University of California-Davis. His pieces transform everyday ceramic objects and bric-a-brac into stacked sculptural forms and vessels. He describes his work as a type of archaeology, stating, "Collecting artifacts is an integral part of my creative process. Conceptually, I consider each object a cultural shard. Similar to the way an archeologist reassembles an excavated fractured vase, I (re)construct my sculptures by stacking and layering various sized objects to create a silhouette. I am drawn to creating forms that are stratified like a geological vertical section of earth composed of layer upon layer of discarded objects."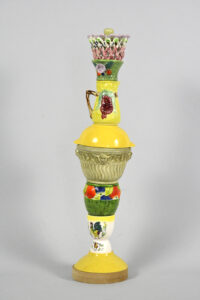 Baron has shown his work nationally and internationally and completed over 25 public art projects, including commissions for the New York City MTA and Long Island Railroad, Indianapolis International Airport, New York City's Depart of Cultural Affairs and Board of Education, Alaska International Airport, University of Oregon: Autzen Stadium, the Portland Regional Arts Council and the Department of Cultural Affairs San Jose, CA.
After a long hiatus, Baron has returned to working in clay. In September, he exhibited his latest body of work in a two-person exhibition at the Valentine Gallery in Bushwick, Brooklyn. Baron lives in Williamsburg Brooklyn  and teaches Sculpture and Ceramics at the School of Visual Arts, NYC.