Watershed recognizes the innovations and contributions made by accomplished artists to the field of ceramics. These artists are honored as Legends via events and galas hosted by Watershed. Legends events shine a spotlight on ceramics masters for the benefit of the greater clay community of artists and students.
Watershed is pleased to honor Wayne Higby, Jack Troy, and Paula Winokur as our newest Legends in 2017. Throughout the year, Watershed will host public talks, workshops and exhibitions featuring the honorees, along with a culminating celebration in October, to celebrate the Legends' careers, ideas, and innovations, .
The celebration in honor of Winokur, Troy, and Higby includes an exhibition of the 2017 Legends' work at The Clay Studio in Philadelphia, from October 6 to November 26.  Following the exhibition reception on October 7, an awards ceremony to recognize the Legends was held at the nearby Arch Street Meeting House. Keynote speaker Glenn Adamson joined Master of Ceremonies Helen Drutt English, Chris Gustin, Nancy Selvin, and Gretchen Keyworth to honor these ceramic masters.
Make a gift to support Watershed's Artist Residencies in honor of Troy, Winokur, and/or Higby and share a message of congratulations.  Watershed will pass your well wishes on to the artist(s). 
About the 2017 Legends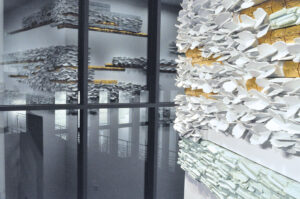 Wayne Higby's unique vision of the American landscape and its manifestation in work ranging from vessel forms and tile, to sculpture and architectural installation has brought him international recognition. He is a professor and the Robert C. Turner Chair of Ceramic Art at the New York State College of Ceramics, Alfred University. He is also the Director and Chief Curator of the Alfred Ceramic Art Museum at Alfred University. Higby is a published authority on ceramic art, acknowledged for his lectures, essays and critical evaluations. He has received the Master of the Media and the Distinguished Educator awards from the James Renwick Alliance, and the American Craft Museum Visionary award. Higby is an Honorary Professor of Art at Shanghai University and the Jingdezhen Ceramic Institute. He is also a Member of Honor of the National Council on Education for the Ceramic Arts, a Life Trustee of the Haystack Mountain School of Crafts, and Vice President of the International Academy of Ceramics.
Studio Potter has generously shared archived articles written by all three of the 2017 Legends.  Click here to visit Wayne Higby's archive.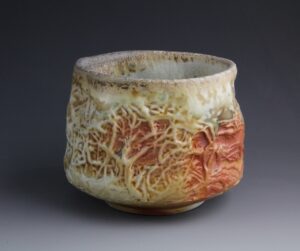 Potter, writer, and teacher Jack Troy retired from Juniata College in 2006, where he taught for 39 years. He has led over 230 workshops for potters at colleges, universities, and art centers in the US and abroad. His career has taken him to thirteen countries, and his work is in many private and public collections, including the Smithsonian Institution, Shigaraki Ceramic Cultural Park (Japan), Auckland (NZ) Museum of Art, and the Kalamazoo Institute of Art.
His first book, Salt Glazed Ceramics, was published in 1977. In 1978, he built Pennsylvania's first anagama-style kiln at Juniata College. His collection of poems, Calling the Planet Home, was published in 2003 and more than sixty of his articles, book reviews, and exhibition catalog essays have appeared in the major periodicals in his field. The Pennsylvania Council on the Arts awarded him two Craft Fellowships for his work in ceramics, and a Fellowship in Literature for his poetry. In 2012, he received the Excellence in Teaching Award from NCECA, the National Council for Education in Ceramic Arts.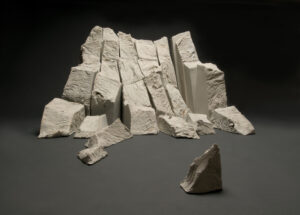 Some of Paula Winokur's greatest influences come from information gathered at sites in the natural environment. She finds herself particularly drawn to locations of geological transition: ledges, crevices, canyons, faults, and shifts. Her recent trips to Iceland and Greenland, where she observed calving glaciers and huge icebergs, led to a body of work examining climate change. She prefers working in porcelain, as its qualities allow her to explore issues of the landscape without resorting to literal interpretations.   
Winokur works out of her studio in Norristown, Pennsylvania, and is Professor Emerita of Acadia University in Glenside, PA. She has exhibited widely and her work is in numerous national and international collections. She is the recipient of many awards, including a Pennsylvania Council on the Arts grant, a National Endowment for the Arts Visual Artists Fellowship, a Professor of the Year Award from Arcadia University, and an honorary fellowship from the National Council on Education for the Ceramic Arts. She received a BFA from Tyler School of Art, Temple University.
The 2017 Legends are featured in Watershed's conversation series, Elemental Intersections. These talks bring together artists, scientists, and others working in natural resource-based fields to examine the connections between art, contemporary environmental issues, and our relationship to the natural world. 

LEARN MORE
Learn about past Legends galas, read the artists' bios, and see images of their work.