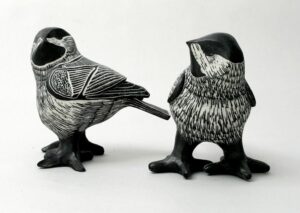 This workshop is for Maine K-12 Art Educators.
Join artist Tim Christensen for a one-day workshop on sgraffito and hand building methods to share in your classroom and build your knowledge base.  Tim will demonstrate techniques he uses in his own art and allow for ample hands-on learning time during this workshop open to K-12 Maine Art Educators.
Date: Friday, March 3, 8:45 a.m. to 3 p.m.
Location: University of Maine, Augusta
Registration Fee: $25.00 (includes lunch and materials)
Contact hours will be provided by Watershed for this workshop.
REGISTER
About the Instructor: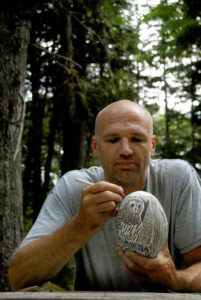 Tim Christensen uses the sgraffito method to draw pictures on his porcelain vessels. Each vessel is made with layers of contrasting clay colors and he carefully carves a drawing into the top layer, revealing some of the layer beneath. Christensen began his ceramic career at the age of 29. He studied intensely under Tamsin Whitehead in Newmarket, NH, and six months later his work was shown in a gallery. Currently he lives and works in Franklin, ME.
Tim is also a teaching artist with the Maine Arts Commission. About his teaching philosophy he says, "I start with the idea that everyone can be an artist, and that art can offer people a strong, clear, and confident voice with which they can express themselves. I am passionate about the subject matter as well and try to convey that excitement to young artists. Through storytelling and visuals, I share the history, the science, the process, and the potential products of working in clay. I pass around examples of pottery I have made using the sgraffito method and preface its importance in history as a visual way of recording information that predates the written language. I firmly believe students learn by experience (touching, hearing, seeing, and feeling). They thrive in a safe, supportive environment where they know their voice will be heard and respected."