Los Angeles-based artists Kat Hutter and Roger Lee work in tandem to make visually striking functional and sculptural objects. During this workshop, Roger will share his masterful techniques for developing forms and Kat will discuss how to develop rich, colorful surfaces. Each day will include a mix of demonstrations, discussions, and guided work time in the studio. Participating artists will also have the opportunity to work in the studio before and after guided instruction time each day. Spend the last week of August learning from these two dynamic makers!
Workshop Dates: August 23-28

Registration Fee: $475 plus meals and optional housing

Housing/Meals Fee: $150 to $500 based on your selection
See registration form for housing and meal details
About Kat & Roger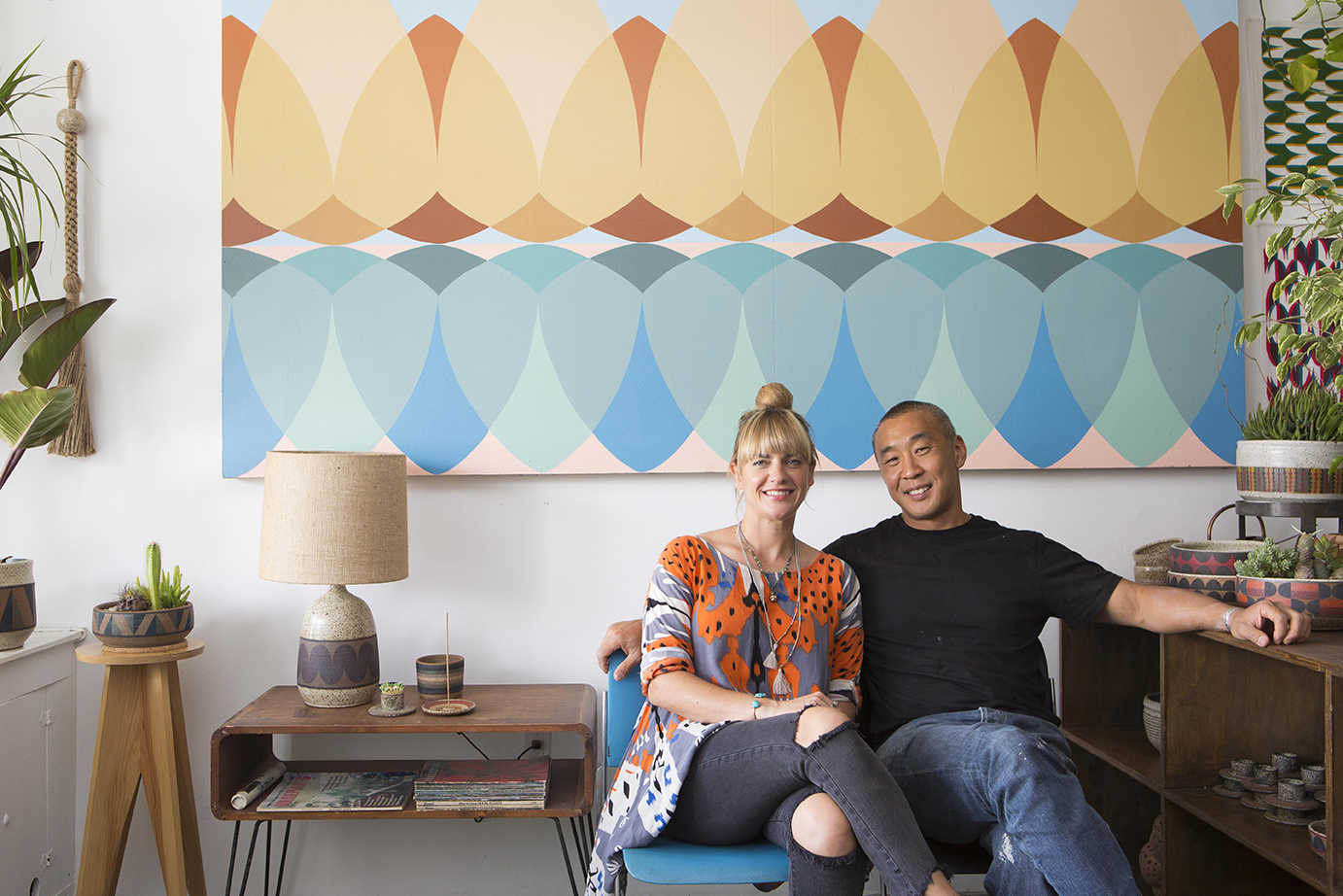 We are Kat Hutter and Roger Lee, a collaborative endeavor as partners and artists working in Northeast Los Angeles. We met in graduate school in South Carolina studying painting and ceramics. Our work is really a continuing story of our life as artists, and projects influenced by living in the South, Portland, Lake Tahoe, the Midwest and now L.A. We love the grit, passion, and dedication the Angelenos have for "the creative lifestyle" and feel it is the right place to be for what we are doing. After a lot of research and development we decided it was time to put K&R out into the world. It is a labor of love, combining classic shapes and graphic surface patterns with earthy natural clay textures. We are influenced everyday by the California lifestyle and the vibrant city of L.A, and are always looking for ways to broaden our experiences.
Text courtesy of katandroger.com
Materials to Bring
One bisque piece with a surface ready for design/painting (cone 10 clay)
Variety of brushes, preferably soft haired
Sketchbook (at least 8"x 10")
Ceramic tool kit
Pencils
Scissors
Materials for transporting green ware (if you plan to take unfired work home with you)
Payments & Refunds
Workshop Payments: A $200 non-refundable deposit is due with your registration. Watershed will invoice you for the remaining balance on your fees, which are due June 10 or upon receipt of invoice for registrations after June 10.
Refunds: Watershed will refund your fees, less the $200 deposit, until July 24. After July 24, no refunds will be given but any payments (including the $200 deposit) may be transferred to another Watershed workshop or residency over the next year.