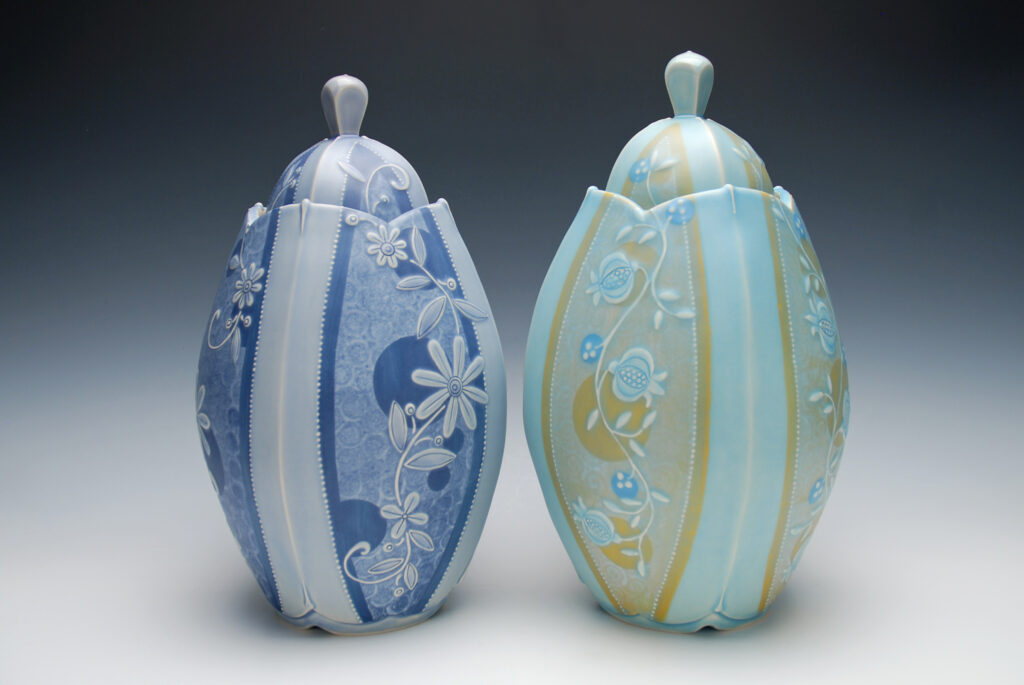 Altered & Ornamented: No Fear! This workshop will focus on conquering anxiety and embracing play with our pots. We will alter wheel-thrown or hand-built forms, and then embellish them with an array of decoration techniques, from stamping and slip-trailing to sponging and resists. Demonstrations will include throwing, altering and building off the wheel, darting, and a variety of deco techniques including stamp-making, as well as studio ergonomics. You will leave the workshop with a collection of new skills, a better understanding of timing in clay, and confidence!
This workshop and its techniques are equally suitable for both throwers and hand-builders. Basic wheel-throwing and/or hand-building skills necessary.
Workshop Dates: September 11 to 13

Fee: $285 (includes breakfasts & lunches)
Optional Housing: $40/night
About Kristen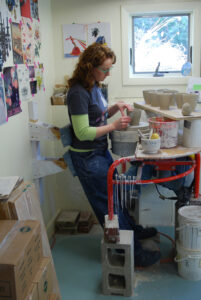 Originally from Louisville, KY, Kristen Kieffer is a studio potter based outside of Worcester, MA. She has been a full-time studio potter since 2003, workshop presenter since 2002, and instructor at the Worcester Center for Crafts since 2001.
Kristen attended Montgomery College in Rockville, MD receiving her Associates degree in Studio Arts majoring in Ceramics (1993), her BFA in Ceramics from Alfred University, Alfred, NY (1995), and MFA in Ceramics from Ohio University, Athens, OH (2001). She has also been in intern at the Henry Ford Museum's Greenfield Village (MI), and an Artist-in-Residence at John Glick's Plum Tree Pottery Studio (MI), the Arrowmont School of Arts & Crafts (TN), Guldagergård Museum of International Ceramic Art (Denmark), and the Worcester Center for Crafts (MA).
Her work is in numerous private and public collections including the Taipei County Yingee Ceramics Museum in Taipei, Taiwan, the Guldagergård Museum of International Ceramic Art in Skælskør, Denmark, the Fort Wayne Museum of Art in Fort Wayne, IN, and the San Angelo Museum of Fine Arts in San Angelo, TX. (More detailed info about her career is on her résumé here.)
Materials to Bring
your sketchbook and/or notebook for notes & drawing/ doodling
drawings and pictures of favorite inspirations, textures, and ideas
books and references with ideas for patterns, symbols, etc.
favorite throwing and/or hand-building tools
slip-trailer (The "Red bulb slip-trailer" via Highwater is my preference, but I also like the "Xiem Precision Applicator Set with 3-oz bulb and 4 Tips" sold at most any ceramic supplier, which is a softer bulb for those who have hand issues.)
scoring tool ("Scratch wire brush" by Kemper?)
stiff, tapered needle tool (Kemper?). (If you have different kinds, bring them all.)
calipers (I prefer the metal kind, having a couple in different sizes is nice.)
carving tools (I prefer the "Kemper Mini Ribbon Tool #2 Small Triangle" and "Large Triangle")
small sur-form (a rasp/grater usually in the plaster section from local hardware store)
brushes for slip deco (larger sumi, long natural bristled brushes as well as smaller soft bristled ones)
Mud Tool ribs in yellow and red (I prefer sizes R1 & Y1)
Mud Tools Mud Sponge (I like both the blue and white)
scissors
pencil(s)
towel/apron
exacto knife
brayer/pony-roller (only if you have one)
objects to make textures
images and/or actual pieces of your own for show and tell (as a group or one-on-one if time permits)
* Except for the red bulb trailer, most all of these can be purchased from any ceramic supplier.
Payments & Refunds
Your fees are due in full with your registration.
If you need to drop out of the workshop, Watershed will refund your fees, less a $25 deposit, until 30 days prior to the start of the workshop.  After August 14, no refunds will be given but payment may be transferred to another workshop or residency over the next year.