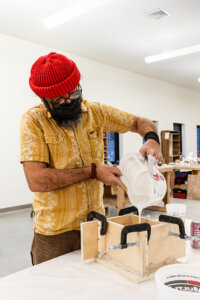 Workshop Dates:
March 3 & 4, 9:00 am – 4:00 pm
.
(POSTPONED)

Workshop Fee: $25 
Open to Maine K-12 Art Educators

IMPORTANT:  Due to unexpected technical difficulties in the studio, Watershed must postpone this workshop to a future date.  
If you would like to be notified of the rescheduled date, please email
info@watershedceramics.org
This two-day hands-on workshop, taught by Watershed's studio manager Reeder Fahnestock, will cover basic processes and techniques for fabricating two piece molds to create slip cast ceramics.  You will come away with a new two-part mold and the skills to lead students through the mold-making process. Topics covered will include:
Selecting and preparing objects to be molded
Measuring, mixing and pouring plaster
Casting slip formulation
Casting objects with slip
Common problems encountered during the process
REGISTER
Workshop Details
Participants should bring a notebook and pencil. 
All materials will be provided, including an object suitable for two-piece casting. You are encouraged to bring personal objects to review their suitability for casting with the instructor.
Payment for workshop is due online with registration. Watershed can provide you with a receipt to submit for reimbursement.
Watershed will offer a light breakfast and lunch during the workshop days. 
Dinners and overnight accommodations on campus will not be available. Participants will be responsible for dinners and arranging their own overnight accommodations. See our FAQs for a list of area lodging options.
The workshop will be held at Watershed's Windgate Studio. Head to 19 Brick Hill Rd in Newcastle, stay right at the fork and follow to the end of the road. 
Watershed will provide proof of contact hours for participants.
This workshop is limited to 8 participants to provide ample opportunities for individualized instruction.
COVID Safety Protocols
Watershed's priority is the safety of workshop participants, instructors, and staff.
Participants will be required to provide proof of COVID-19 vaccination upon arrival.
Participants will be required to wear masks indoors and if working in close proximity to each other outdoors.
Watershed's new Windgate Studio is large enough to ensure at least 6 feet of social distancing. The Studio is also equipped with a new ventilation system that includes MERV 8 and 13 filters.