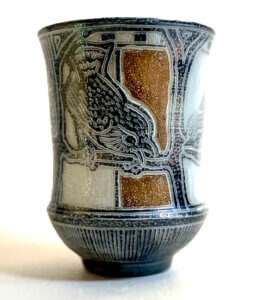 Friday, March 25, 2022
9:00 am – 4:00 pm
$25 per person
Open to Maine K-12 Art Educators

Join artist Tim Christensen for a fast-paced workshop on sgraffito, an etching technique dating back over 6,000 years. Participants will learn sgraffito as well as hollow form construction and will have multiple decorated greenware pieces to take home. Everyone will receive a sgraffito tool, two wheel-thrown cups, a tile, and porcelain clay. With the porcelain, you will construct a hollow form using air pressure to shape the final object. While the hollow form dries, you will etch on the provided tile and cups and Tim will regale you with stories of his trips around the world creating documentary artwork. There will be ample time and space for hands-on learning, exploration, and conversation.
REGISTER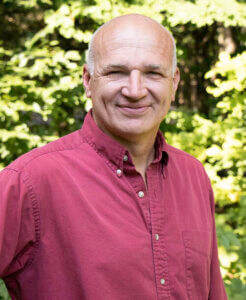 About the Instructor:
Tim Christensen lives and works in Roque Bluffs, Maine. He is a porcelain artist working primarily in sgraffito since 2004, and an author, educator, and environmentalist. Many of his iconic black and white etchings depict the intricate relationships found in the natural places of the world. He fires in wood, salt, and oxidation firings between cones 6 and 12, often creating custom kilns for large or oddly shaped pieces. He makes high-quality multiples for installation or educational projects and is internationally recognized for his skill, philosophies, and teaching. He uses clay as an historical document rather than a functional object.
Workshop Details
Participants should bring a pencil and notebook. 
All materials and supplies will be provided, including porcelain clay, etching stylus, metal rib, underglaze, and greenware forms for etching on(  two cups and a tile).   You are welcome to bring additional greenware forms, but not required.
This workshop does not include firing and participants should be prepared to transport greenware home.
Payment for the workshop is due online with registration. Watershed can provide you with a receipt to submit for reimbursement.
Watershed will offer a light breakfast and lunch during the workshop. 
The workshop will be held at Watershed's Windgate Studio.  Head to 19 Brick Hill Rd in Newcastle, stay right at the fork, and follow to the end of the road. 
Watershed will provide proof of contact hours for participants.
COVID Safety Protocols
Watershed's priority is the safety of workshop participants, instructors, and staff.
Participants will be required to provide proof of COVID-19 vaccination upon arrival.
Participants will be required to wear masks indoors and if working in close proximity to each other outdoors, regardless of vaccination status. 
Watershed's new Windgate Studio is large enough to ensure at least 6 feet of social distancing. The Studio is also equipped with a new ventilation system that includes MERV 8 and 13 filters.