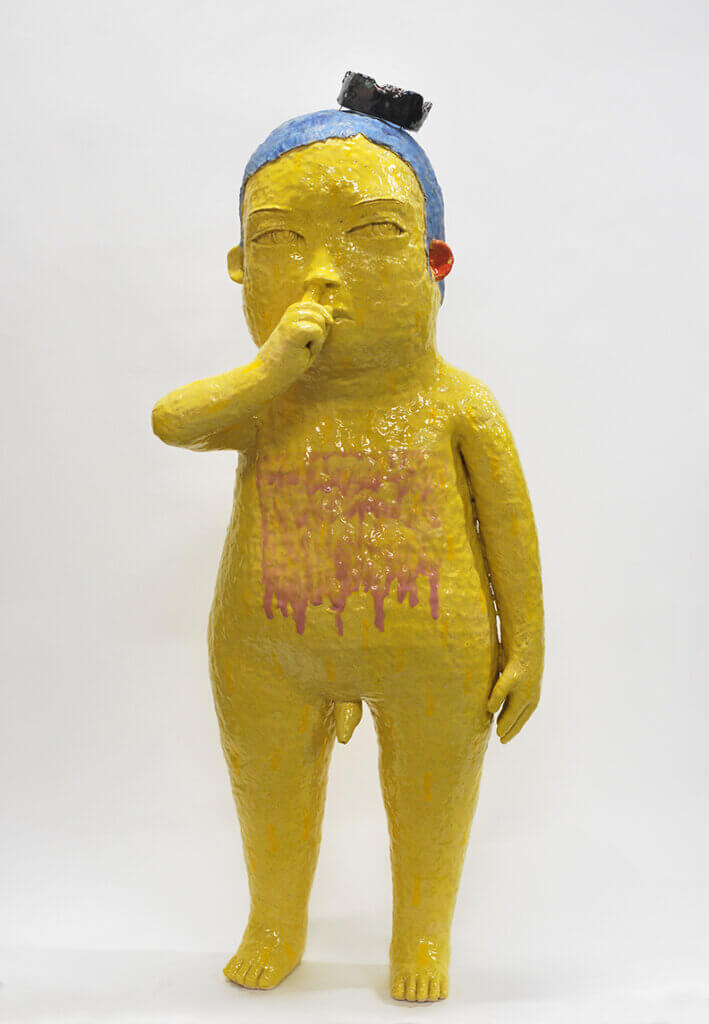 Explore ways to create narrative figures using basic hand-building methods such as coil, slab building, and pinching. Kensuke Yamada will demonstrate various techniques he uses in his work and offer individualized instruction to participants as they create their own narrative figures. The group will also explore glazing techniques and how to personalize pieces using the Raku firing method. All levels are welcome.
Dates: April 14-16, 2023
Fee: $430 (includes breakfast, lunch & clay)
Optional Housing: $60/night
REGISTER
About Kensuke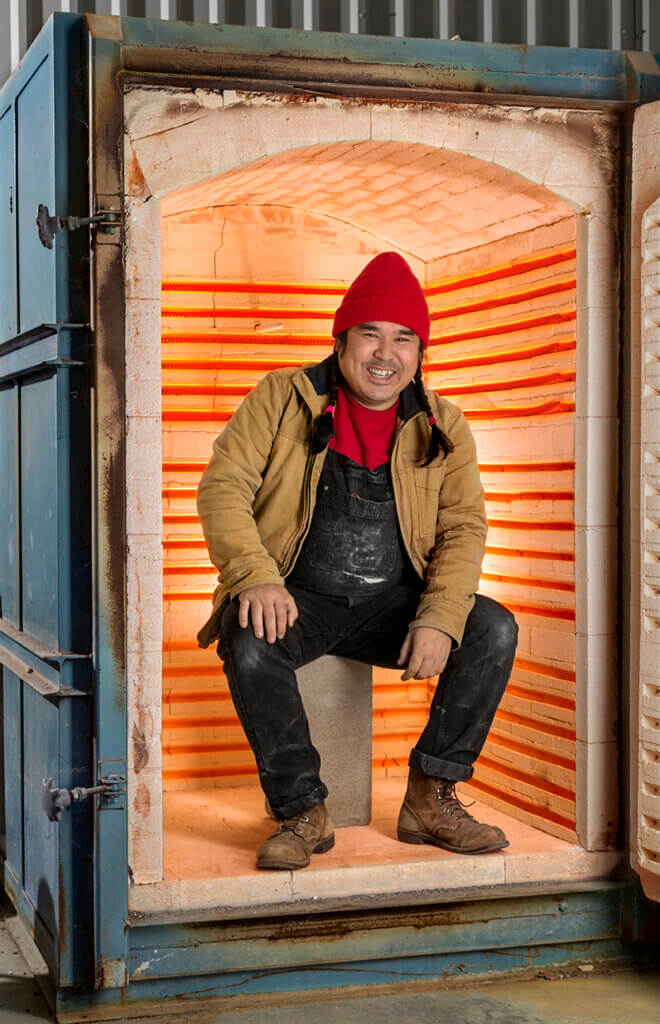 Kensuke Yamada was born in Japan and came to the US to attend Evergreen State College in Olympia, WA, where he received his BA. He continued his ceramics education at the University of Montana, receiving his MFA in 2009. Since then, he has been a resident artist at the Archie Bray Foundation (MT) and The Clay Studio (PA), and a guest artist & adjunct instructor at the Tyler School of Art, Temple University (PA). He has also been a visiting artist, ceramics studio technician, and instructor at the University of Arkansas, Fayetteville, and a visiting Assistant Professor at Centre College in Danville, KY. He is currently an instructor at University of Arkansas, Little Rock. Yamada is a sculptor that creates layered narratives within his figurative works.
Workshop Details & Schedule
Daily Schedule:
Friday, April 14: 9:00 a.m. to 4:00 p.m.
Saturday, April 15: 9:00 a.m. to 4:00 p.m.
Sunday, April 16: 9:00 a.m. to noon
Please arrive at the studio by 8:45 a.m. each day; instruction begins at 9:00 a.m.
The group will break for lunch at 12:30 p.m. on Friday and Saturday.
Tuition covers 25 lbs of clay to use during the workshop session. Participants may take any remaining clay home with them. Individual workspace and shelving will be provided. Workshop participants should plan to bring their own tools and bisqued work to use during Raku firing, along with packing material to transport greenware home. See below for a full list of materials.
Housing & Meals
During the workshop, Watershed provides continental breakfast Friday-Sunday and lunch on Friday and Saturday. Vegetarian, gluten free, and dairy free diets can be accommodated.
Workshop participants make their own dinner arrangements. Various restaurants and take-out options are accessible via car.
On-Campus Housing
Watershed offers housing in single occupancy rooms furnished with twin beds for $60 per night. Bathroom facilities are shared but can be used by one person at a time, much like a bathroom in a home. Participants must bring their own sheets, blankets, and bath towels. Pillows and mattress pads are provided. 
Housing is limited to five workshop participants and will be assigned on a first-come, first-served basis.
Those staying overnight at Watershed from April 13 through April 15 should arrive between 3:00 and 5:00 p.m. on the 13th to check in and be shown to their room.
Those staying at Watershed only on April 14 and 15 should go directly to the studio on the morning of the 14th. Watershed staff will show you to your room during the midday workshop break.
Participants may also elect to stay off campus.
What to Bring
For all workshop participants: 
Prior to the workshop, participants should make and bisque-fire a small rabbit for Raku firing. It must be made of a high-fire stoneware clay suitable for Raku.
2023 is the Year of the Rabbit; but if you're not a bunny fan, feel free make some other small, seated creature with a low center of gravity, such as a frog. Your figure should measure approximately 5″ x 5″ x 5″ and will be included in the Raku firing.
Basic ceramics tools
Spray bottle
Various brushes 
Packing materials to transport greenware
For those staying on campus:
Sheets for a twin bed
A blanket, comforter, or sleeping bag suitable for a twin bed
Bath towel and toiletries
Payments & Refunds
The workshop fee and any housing fees are due in full with your registration.
If you need to drop out of the workshop, Watershed will refund your fees, less a $50 processing fee, until 30 days prior to the start of the workshop. For cancellations made after March 14, fees are non-refundable but can be applied to a future Watershed program within the next calendar year.