With Guest Artist Hayne Bayless
November 10 & 11, 2022
9:00 a.m. to 4:00 p.m.
$60 per person
Open to Maine K-12 Art Educators

REGISTER
 
Discover new handbuilding techniques to use in your own work and to share in the classroom. During this studio-based workshop, guest artist Hayne Bayless will demonstrate methods for making simple and complex forms from slabs and share a variety of surface decoration techniques using stencils and colored slips. Participants will have the opportunity to experiment and hone their skills over two days of instruction and guided exploration.
About Hayne Bayless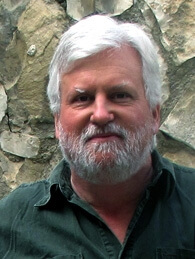 Hayne Bayless makes handbuilt stoneware pottery in Ivoryton, CT. He has a degree in journalism and has managed to avoid any academic involvement with clay. In 1992, he quit a perfectly good job at a newspaper to make pots. He abandoned wheel-throwing early on, preferring the freedom of handbuilding afforded by slab work and extrusions.
Hayne received the top prizes at two of the country's most important craft shows: the Smithsonian Craft Show in Washington, D.C. and the Philadelphia Museum of Art Craft Show. He teaches workshops all over the country and abroad.
Workshop Details
During this hands-on workshop, participants will explore:
Methods for creating slabs, including use of an extruder
Making simple and complex slab-built forms, including cups, vessels, and teapots
Working with stencils
Using slips for surface decoration
Watershed will provide proof of contact hours for participants.
SCHEDULE:
Thursday, November 10
8:30 am: Arrival and light breakfast
9:00 am: Review of hand building concepts, demonstrations, and open studio time
Noon: Lunch
1:00 pm: Demonstrations continued
2:30 to 4:00 pm: Open studio time
Friday, November 11
8:30 am: Light breakfast and open studio time
9:00 am: Surface decoration demonstrations and open studio time
Noon: Lunch
1:00 pm: Demonstration of using printing slabs for various forms
2:30 to 4:00 pm: Open studio time
MEALS & REFRESHMENTS:
Watershed will offer a light breakfast and lunch during the workshop days. Vegetarian, gluten-free, and dairy-free diets can be accommodated. Please indicate any dietary needs on your registration form. Participants will be responsible for their own dinners.  
What to Bring
Pencil and sketchbook
Your favorite clay tools
Fettling knife
Pin tool
X-acto knife with new blades
Payments & Refunds
Payment for the workshop is due online with registration. Watershed can provide you with a receipt to submit for reimbursement.
Registration fees are refundable until 14 days prior to the workshop.  
Health & Safety
During the pandemic, Watershed's priority is the safety of workshop participants, instructors, and staff.
Participants will be required to provide proof of Covid-19 vaccination and booster upon arrival.
Participants will be required to wear masks indoors and if working in close proximity to each other outdoors.
Watershed's new Windgate Studio is large enough to ensure at least 6 feet of social distancing. The Studio is also equipped with a new ventilation system that includes MERV 8 and 13 filters.