With Guest Artist Lucy Breslin
Friday, October 21, 2022
9:00 a.m. to 4:00 p.m.
$30 per person
Open to Maine K-12 art educators

REGISTER
 
Explore ways to integrate text into your ceramic work during this hands-on studio workshop. Guest artist Lucy Breslin will lead participants through the process of adding text to three-dimensional forms and writing on two-dimensional surfaces. The workshop will cover versatile ways to work with text that teachers can easily adapt for use with students of all ages.
About Lucy Breslin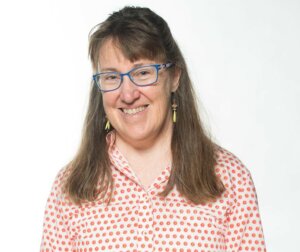 Lucy Breslin was born in Philadelphia, PA. She graduated from The Pennsylvania State University with a B.A. in Technical Writing. She received an M.F.A. from Kent State University and studied at Juniata College with Jack Troy. After graduating from Kent State, she was awarded a year-long residency at The Archie Bray Foundation in Helena, MT.  The following year, she lived and traveled in Spain, having been awarded a Fulbright Fellowship. For the past twenty-five years, she has taught at The Maine College of Art and Design in Portland, Maine. During this time, she has seen many of her former students go on to become successful artists. Lucy has served on the advisory board of Studio Potter. She is a past member Watershed's board of trustees and also served on the advisory council. She has exhibited her work in more than 150 juried and invitational exhibitions and at 26 museums throughout the country. Her work has appeared in Ceramics Monthly, Studio Potter, Clay Times, American Ceramics, and American Craft, as well as other publications and many books. Lucy has also enjoyed being a visiting artist at schools and art centers across the country and has participated in numerous NCECA panels and demonstrations.
Workshop Details
Upon completion of the workshop, Watershed will provide participants with proof of contact hours. Topics covered during the workshop will include:
Modeling letters to create sculptural forms
Methods for applying text on unfired clay or during the glazing process
How form and content interact to enhance meaning
Ways to make your writing easily read, cryptic, or hidden
Contemporary and historical examples of ceramists working with text
SCHEDULE
| | |
| --- | --- |
| 9:00 a.m. to 12:00 p.m. | Demonstration: modeling letters; sketching ideas; building sculpture; making tiles |
| 12:00 to 12:30 p.m. | Lunch |
| 12:30 to 4:00 p.m. | Demonstration: mishima, wax and carve, stamping, and slip trailing; studio time |
MEALS & REFRESHMENTS

A light breakfast and lunch will be offered during the workshop. Vegetarian, gluten-free, and dairy-free diets can be accommodated. Please note any dietary needs on your registration form.
What to Bring
A few lines of text. This could be your own writing, a poem, a letter or text someone sent you, notes from your diary,  something that someone once said to you that meant something special, etc.
Pencil and notebook
Your favorite clay tools
Metal serrated rib
Sgraffito tool
Fettling knife
Inexpensive brushes
Payments & Refunds
Payment is due online with registration.
Watershed can provide you with a receipt to submit for reimbursement.
Registration fees are refundable until 14 days prior to the workshop.  
Health & Safety Information
During the pandemic, Watershed's priority is the safety of workshop participants, instructors, and staff.
Participants will be required to provide proof of Covid-19 vaccination and booster upon arrival.
Participants will be required to wear masks indoors and if working in close proximity to each other outdoors.
Watershed's new Windgate Studio is large enough to ensure at least 6 feet of social distancing. The Studio is also equipped with a new ventilation system that includes MERV 8 and 13 filters.