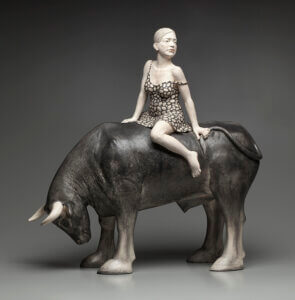 Join artist and educator Claudia Olds Goldie for a 2.5 day intensive workshop to explore the relationship between humans and animals in ceramic sculpture. Participants will learn to build hollow free-standing human and animal figures from slab cylinders as Claudia demonstrates the techniques she uses to create her own evocative and highly detailed ceramic sculptures. Participants may choose to complete one larger piece or explore how to create several smaller figures that relate to each other in a compelling way.
Dates: August 17-19, 2022
Workshop Fee: $350 general participants; $50 Maine K-12 ceramics teachers.
Fee includes clay, breakfast & lunch
Optional Housing: $60/night
About Claudia Olds Goldie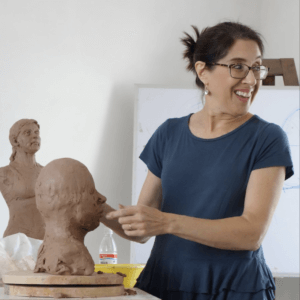 Claudia Olds Goldie is an artist and educator working primarily in ceramics.  She has received numerous awards including Massachusetts Cultural Council finalist, a Kiln God Award from Watershed Center for Ceramic Arts, a residency fellowship from the Vermont Studio Center, and a nomination for a Boston Foundation Brother Thomas fellowship. She has shown nationally in shows such as the NCECA Biennial in Houston, SOFA Chicago, and numerous State of Clay National Juried exhibitions. She is represented by Boston Sculptors Gallery and the Wit Gallery in Lenox, Massachusetts.  Olds Goldie's ceramic sculpture teeters on the edge of realism and dreamscape.  The figures evoke joy, loss, resilience, and strength of character – particularly from a woman's perspective – as they chronicle journeys toward confidence and self-possession. 
Workshop Schedule
Wednesday, August 17
1:00 to 3:00 pm: Welcome, introductions, and demonstrations
3:00 to 5:00 pm: Studio work
Dinner on your own
Studio is open 24/7 for optional evening work
Thursday, August 18
8:30 am: Continental breakfast
9:00 am: Demonstration
10:00 am to Noon: Studio work
Noon: Lunch
1:00 pm: Slide presentation
2:00 to 5:00 pm: Studio work
Dinner on your own
Optional evening work in studio
Friday, August 19
8:30 am: Continental breakfast
9:00 am: Studio work
Noon: Lunch
1:00 to 3:00 pm: Studio work
3:00 pm: Depart Watershed
What to Bring
N95 or KN95 face mask and your Covid-19 vaccination card
Your favorite studio tools
Fettling knife
Wooden modeling tools
Clay will be provided
Packaging or padding to transport green ware home. Work will not be fired during the workshop.
Housing & Meals
Watershed provides continental breakfast and lunch on the second and third days of the workshop. Vegetarian, gluten free, and dairy free diets can be accommodated. Participants should plan to eat dinner off campus or get takeout from area establishments. Artists are welcome to use the studio kitchenette, including the refrigerator and microwave. 
Watershed offers housing in single-occupancy rooms. Bathroom facilities are shared but can be used by one person at a time, much like a bathroom in a home. Rooms are furnished with twin beds. Pillows and mattress pads are provided. Participants should bring towels, sheets, pillowcases, and blankets.
Payments & Refunds
Workshop Payments: The workshop fee is due in full with your registration.
Grant funding for Maine K-12 ceramics teachers provides a discount on teachers' fees.
Proof of current employment by an accredited school is required.
Refunds: Watershed will refund registration fees until July 17. No refunds will be given after this time unless a participant cannot attend due to illness from COVID.