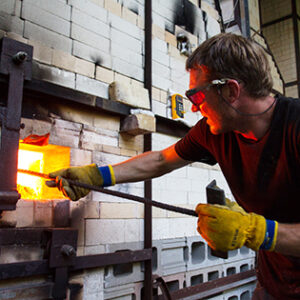 Develop your wood firing skills during this hands-on workshop led by Watershed Studio Manager Reeder Fahnestock. Participants will take part in all aspects of firing Watershed's catenary arch wood kiln and will be guided through every step of the process from start to finish.
Workshop Dates: September 14-17 with kiln unload on September 23
Registration Fee: $790, includes meals & housing
Workshop Details & Schedule
Workshop participants will have the opportunity to wood fire their own work in Watershed's catenary arch kiln during this guided group firing. From the glazing process through the kiln unload and cleanup, Watershed's studio manager will provide step-by-step instructions and support.
The workshop is limited to eight participants. Working in shifts, the group will fire the wood kiln over the course of a long weekend, allowing time for the kiln to cool, and unloading the work together the following Saturday. Prospective participants should be aware that some shifts during the firing process will take place overnight.
For those interested in renting Watershed wood kilns for personal use, participation in this workshop serves as a step toward certification.
Schedule
September 14:
Arrive between 12:00 and 2:30 pm
3:00 pm studio orientation and glaze instruction. Reeder will share information on Watershed's stock glazes and provide support as participants prepare the surfaces of their work for the firing.
6:00 pm Welcome dinner. Following dinner, participants have the opportunity to return to glazing their work.
September 15:
Working in shifts, we will alternate between preparing and stacking wood, wadding work, and loading the kiln.
Kiln candles overnight. The group will determine shift assignments for the firing.
Breakfast, lunch, dinner, and snacks provided.
September 16:
Fire the kiln
Participants will take shifts firing and stoking the kiln.
Breakfast, lunch, dinner, and snacks provided.
September 17:
Participants depart Watershed by noon.
Breakfast provided.
September 23:
Participants arrive on the kiln pad by 9:00 a.m. to unload the kiln, discuss results, clean the kiln and furniture, and pack work for transportation.
Those who are traveling from far distances may spend the night at Watershed on September 22.
Participants provide their own food.
Materials To Bring
Bisque work that is able to withstand cone 12.
Each participant will have 6 cubic feet of space for their work in the 48 cubic foot kiln. Pieces should not exceed 10 inches in any dimension. Various shapes and sizes of work are strongly encouraged.  
Participants may bring pre-glazed work or make use of Watershed's pre-mixed glazes formulated for wood and salt. Advice for glazing individual pieces will be offered. 
All clay and glazes used should be able to withstand cone 12. While we will be firing to a "middle" cone 10 as our target cone, some spots in the kiln may reach higher temperatures.
Reeder is happy to answer questions about the type and amount of bisque work you should bring and provide recommendations for compatible clays and glazes in advance of the workshop. Contact Reeder at rfahnestock@watershedceramics.org
We also recommend bringing packing material for transporting fired work, bugspray, and a flashlight or headlamp.
Housing, Meals & Attire
Watershed provides dinner on the first night of the workshop, three meals daily on September 15-16, and breakfast September 17. Vegetarian, gluten-free, and dairy-free diets can be accommodated. During the kiln unload day, participants provide their own food.
Participants will stay in Watershed's cabins in single occupancy rooms furnished with twin beds. Bathroom facilities are shared but can be used by one person at a time, much like a bathroom in a home. Participants must provide their own sheets, blankets, and bath towels. Pillows are provided. 
September weather can be temperate or temperamental, please bring clothes to layer. While firing the kiln, participants must wear closed toe shoes, long pants, and long sleeves. Please avoid wearing loose, flammable materials (synthetics, nylon, etc) and bring something to tie back long hair.
Payment Schedule & Refund Policy
Workshop Payments: A $200 non-refundable deposit is due with your registration. Watershed will invoice you for the remaining balance, which is due July 15 or upon receipt of invoice for registrations after July 15.
Refunds: Watershed will refund your fees, less the $200 deposit, until August 13. After August 13, no refunds will be given but any payments (including the $200 deposit) may be transferred to another Watershed workshop or residency within the next calendar year. 
About Reeder Fahnestock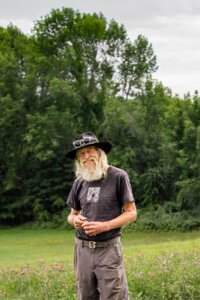 Workshop instructor Reeder Fahnestock has fired a wide variety of wood kilns and has extensive experience with wood-kiln construction. He supervised the construction of the kiln we will be firing and has fired it numerous times. He has been firing his work in wood and salt kilns for over twenty years.
Reeder received his BFA from the Kansas City Art Institute. He earned his MFA in ceramics at Kansas State University where he studied with Yoshiro Ikeda, was awarded the Strecker-Nelson Gallery MFA Scholarship, and taught beginning and advanced ceramics. He was the inaugural artist in residence at Pinon Hill Pottery in La Veta, Colorado, and was also an artist in residence for two years at Pope Valley Pottery in California. His work has been exhibited nationally and is in many private collections. 
Health & Safety
Watershed prioritizes the safety of workshop participants, instructors, and staff. To prevent the spread of COVID-19, we strongly encourage everyone on campus to wear masks indoors and if working in close proximity to each other outdoors.
In the days leading up to the work workshop, if you test positive for COVID-19, are experiencing symptoms, or have a recent known exposure to someone with COVID-19, please let us know and do not attend the workshop. Your fees can be credited to a future workshop over the next calendar year.
Additionally participants must wear long pants, long sleeves, and closed toe shoes during wood firing.