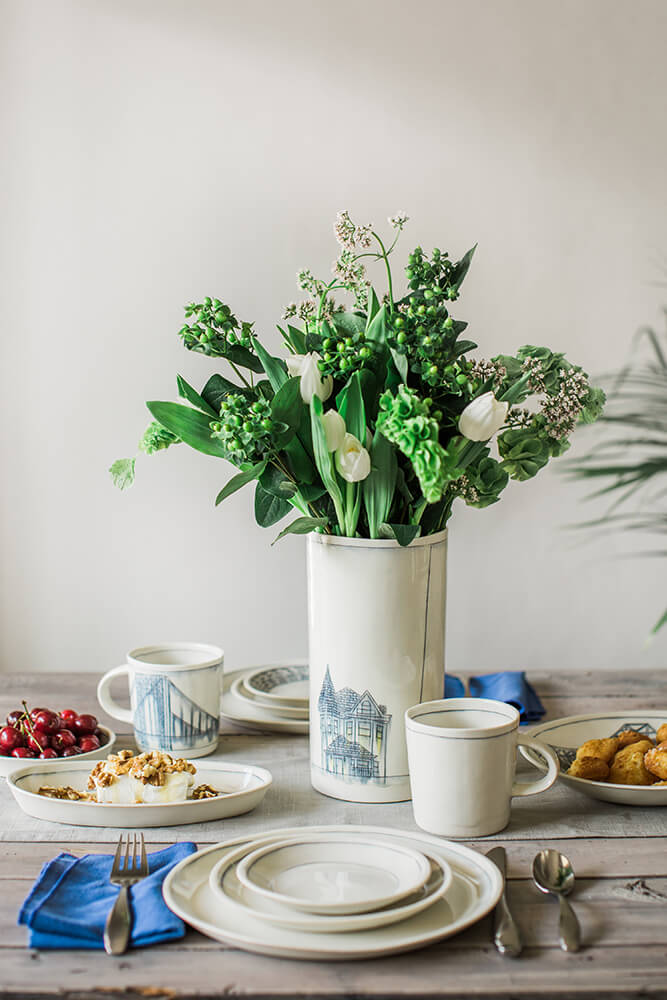 Join Nicole Aquillano to learn the techniques behind her process, with a focus on creating slip-cast forms to provide a smooth surface for mishima decoration. Participants will learn how to make one-part molds and use the smooth surface of cast forms to explore personal connections to imagery through the inlay technique of mishima. Nicole will also discuss the business side of selling functional ceramics; from consignment to wholesale to custom pieces for individual collectors.
Dates: October 13-15, 2023
Fee: $430 (includes breakfast, lunch & clay)
Optional Housing: $60/night
REGISTER
About Nicole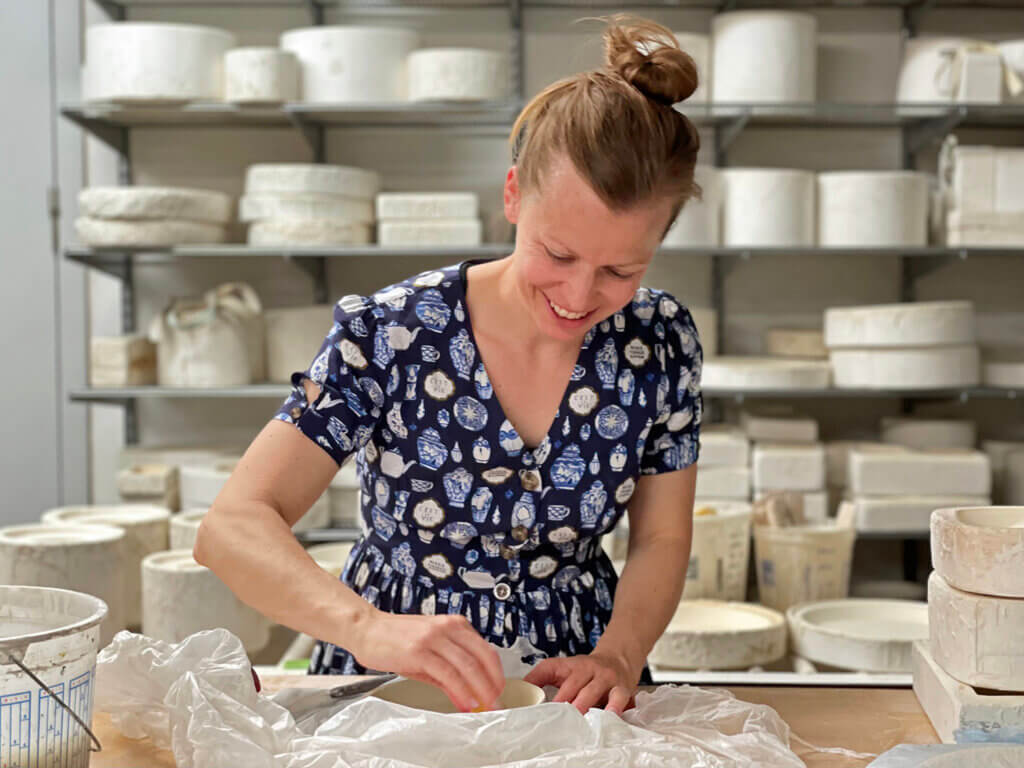 Nicole took an unconventional path to become a full time studio potter. After pursing a career in civil & environmental engineering, she left to follow her passion and earn an MFA in ceramics from RISD. Nicole etches each image into the porcelain clay with a knife and inlays a black underglaze. She references imagery from her past as a way to establish a personal connection and often creates custom pieces for individual collectors. Working from photographs, she draws subtle narratives on her functional work to elicit memories of times past. Each image is etched with intense attention to detail and blurred by the movement of glaze, much like a faded memory. This prompts display of her work when not in use, as a meaningful addition to any collection. She is fascinated by the potential of place to define and connect us, as well as the human need to maintain collections as a way to preserve the past.
Nicole has worked full-time as a studio potter since 2012 and has developed a successful ceramics line which she currently produces and sells across the country. She sells her work at the Philadelphia Museum of Art, the Clay Studio, Red Lodge Clay Center & Worcester Center for Crafts, among numerous others. Her work has also been carried at Anthropologie Stores across the US and online. In addition to her original collections, she also work with galleries to create custom imagery for their shops including the Cooper Hewitt, National Building Museum, Philadelphia Museum of Art, deCordova Sculpture Park and Museum, Barnes Foundation, Skywalker Vineyards, Society for Contemporary Craft in Pittsburgh, and the New Britain Museum of American Art in Connecticut.
Aside from the work she produces for gallery shops, her one-of-a-kind work is exhibited nationally and has earned numerous awards including Best in Show in Society for Contemporary Craft's Crafted Exhibition (2013), Cup of Merit for the NCECA Cup show and sale (2013), First Place Award in Workhouse Ceramics Drink This Exhibition (2014), Best of Show in the Academy of Fine Arts Battle of the Bowls (2013), and Award of Distinction, Award of Excellence, & Purchase Award for Starbrick Gallery's National Cup Show (2015). In 2015 she was awarded a Brother Thomas Fellowship from the Boston Foundation. She was also an American Made Finalist for Martha Stewart (2015) and a Leap Award Finalist for the Society for Contemporary Craft (2013).
Workshop Details & Schedule
Daily Schedule:
Friday, October 13: 9:00 a.m. to 4:00 p.m.
Saturday, October 14: 9:00 a.m. to 4:00 p.m.
Sunday, October 15: 9:00 a.m. to noon
Please arrive at the studio by 8:45 a.m. each day; instruction begins at 9:00 a.m. The group will break for lunch at 12:30 p.m. on Friday and Saturday.
Tuition covers clay to use during the workshop session. Participants may take any remaining clay home with them. Individual workspace and shelving will be provided. Workshop participants should plan to bring their own tools and other materials listed below. Because of the short nature of the workshop, we will not have time to fire completed work. We recommend documenting pieces on site or packing material suitable for transporting greenware.
What to Bring
For all participants:
Small bucket for water Small sponge (little yellow round one works great)
Stiff Paintbrush Sherrill Mud Tool Rib, Green (medium flex), shape 2 Dolan 220C
Flexible Knife (or you can use an exacto knife)
Throwing & trimming tools for making clay positives on wheel, including metal rib
Your favorite Amaco Underglaze (Nicole uses Amaco Lug-1 (black))
Two sureforms (one for clay, one for plaster)
Photo(s) of something that's important to you (the more architectural the better)
Packing material for transporting greenware
For those staying on campus:
Sheets for a twin bed
A blanket, comforter, or sleeping bag suitable for a twin bed
Bath towel and toiletries
Housing & Meals
During the workshop, Watershed provides continental breakfast Friday-Sunday and lunch on Friday and Saturday. Vegetarian, gluten free, and dairy free diets can be accommodated.
Workshop participants make their own dinner arrangements. Various restaurants and take-out options are accessible via car.
On-Campus Housing
Watershed offers housing in single occupancy rooms furnished with twin beds for $60 per night. Bathroom facilities are shared but can be used by one person at a time, much like a bathroom in a home. Participants must bring their own sheets, blankets, and bath towels. Pillows and mattress pads are provided.
Housing is limited and will be assigned on a first-come, first-served basis.
Those staying overnight at Watershed on October 12th should arrive between 3:00 and 5:00 p.m. on the 12th to check in and be shown to their room.
Those staying at Watershed only on October 13th and 14th should go directly to the studio on the morning of the 14th. Watershed staff will show you to your room during the midday workshop break.
Participants may also elect to stay off campus.
Payments & Refunds
The workshop fee and any housing fees are due in full with your registration.
If you need to drop out of the workshop, Watershed will refund your fees, less a $50 processing fee, until 30 days prior to the start of the workshop. For cancellations made after September 13, fees are non-refundable but can be applied to a future Watershed program within the next calendar year.