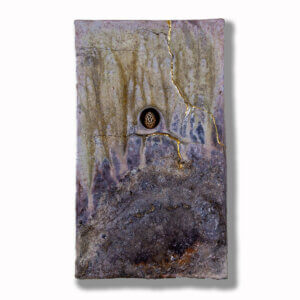 With Guest Artist Simon van der Ven
July 20 & 21, 2023
9:00 a.m. to 4:00 p.m.
$60 per person
Open to Maine K-12 art educators
REGISTER
Join artist and educator Simon (Siem) van der Ven for a two day workshop on building hollow forms from slabs and moist clay. This workshop is open to beginners and experts alike. With no intention of shaming the sphere, nor the potter's wheel, we will work together to happily let go of any notions of their ubiquity and/or supremacy and wander into the realm of planes, angles, and corners. 
Through a process that includes preliminary design, maquette making, pattern cutting, slab rolling, and construction, participants will create planar, multi-faceted, ceramic forms and structures. Design work, tools, and techniques involved lend themselves particularly well to making connections between various subjects including geometry, physics, sewing, and more.
About Siem van der Ven
I follow these threads through my life: making things, cooking, drawing, sailing, teaching, being a father (the very best work I've been a part of). I have never let go of the stage in which I learn from my fingertips inward.
My undergraduate degree is in printmaking with a minor in sculpture. I worked as a goldsmith and carpenter/builder before becoming an award winning high school art teacher. Seventeen years in the classroom were interrupted only by a year-long sabbatical in the south of France, where I worked in Atelier Buffile and studied painting and critical theory at the Marchutz School. Later, while still teaching, I earned an MFA with a concentration in ceramics and drawing.
I've taught as an adjunct professor at University of Maine Augusta, U-Rock, and Unity College and have facilitated numerous workshops. I've been a resident artist at Anderson Ranch, Watershed Center for the Ceramic Arts, and Haystack Mountain School of Crafts.
As an artist, my work has won awards in several national juried competitions. It is held in both private and public collections including the San Angelo Museum of Fine Arts, the Canton Museum of Fine Arts, and Harrisburg Community College.
Currently, I live and work in Lincolnville Center, Maine with my wife Kate Braestrup. We share loving six grown children.
Workshop Details
Instruction and studio-based work time will take place over two days in Watershed's Windgate Studio. Morning sessions will run from 9:00 a.m. to 12:30 p.m. with a break for lunch, and the afternoon sessions will run from 1:30 to 4:00 p.m.
Upon completion of the workshop, Watershed will provide participants with proof of contact hours.
MEALS & REFRESHMENTS

A light breakfast and lunch will be offered during the workshop. Vegetarian, gluten-free, and dairy-free diets can be accommodated. Please note any dietary needs on your registration form.
What to Bring
Wooden knife
Fettling knife
Wooden paddles
Ribs (Plastic, rubber, wood, and metal all work but with different results)
Sureform rasps
Craft (X-acto) knife
Scissors
Ruler
Compass (if you have one)
Carving/trimming tools
Old toothbrushes
Scoring tools
Notebook & pencil
Packing materials to transport greenware home
Payments & Refunds
Payment is due online with registration.
Watershed can provide you with a receipt to submit for reimbursement.
Registration fees are refundable until 14 days prior to the workshop.  
Health & Safety Guidelines
Watershed prioritizes the safety of workshop participants, instructors, and staff. To prevent the spread of COVID-19, we strongly encourage workshop participants to wear masks indoors and if working in close proximity to each other outdoors. On the days of the workshop, if you are currently experiencing symptoms of COVID-19 or have a recent known exposure to someone with COVID-19, please let us know and do not attend the workshop. Your fees can be credited to a future workshop over the next calendar year.
Watershed's new Windgate Studio is large enough to ensure at least 6 feet of social distancing. The Studio is also equipped with a new ventilation system that includes MERV 8 and 13 filters.