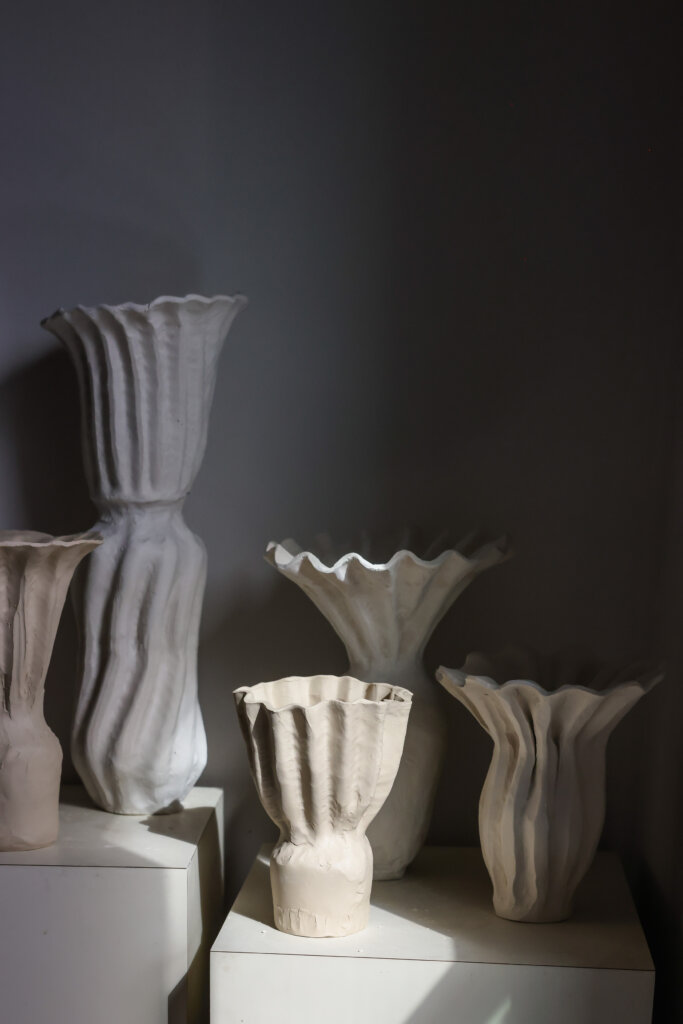 Explore fresh approaches to handbuilding three dimensional forms while gaining new techniques to incorporate into your practice. During discussions, demonstrations, and hands-on time in the studio, workshop participants will consider ways that formal choices influence the character and expressive qualities of a piece. Guest artist Ariela Kuh will share her sources of inspiration and philosophy of making, and provide personalized guidance.
Dates: April 28-30, 2023
Fee: $375 (includes breakfast, lunch & clay)
Optional Housing: $60/night
REGISTER
About Ariela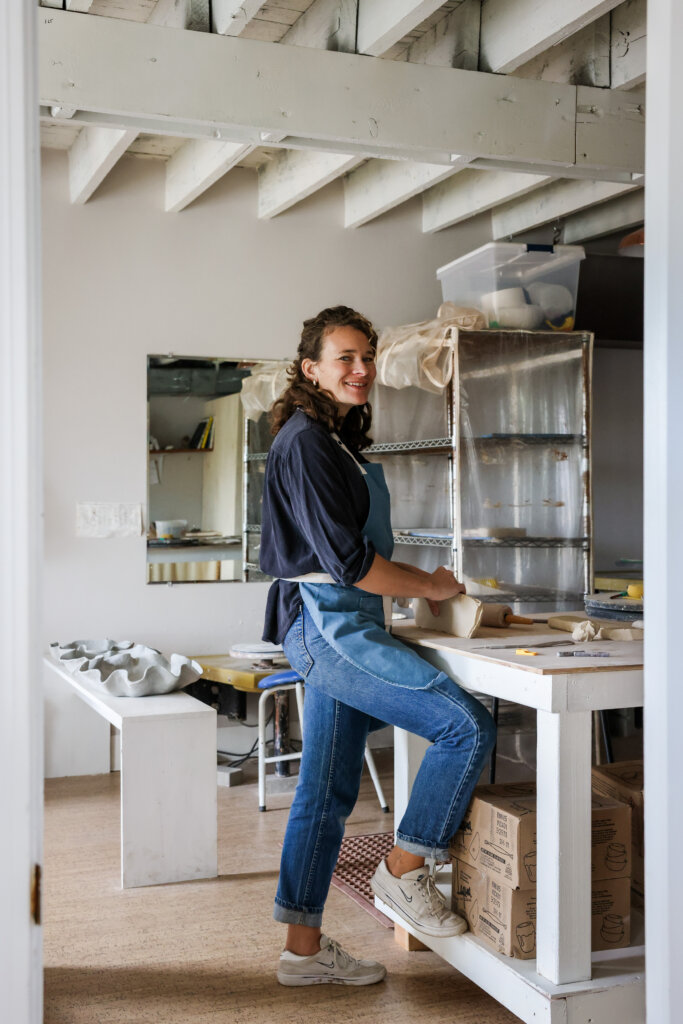 Ariela Kuh has been making things with her hands for as long as she can remember. In 2013, she founded ANK Ceramics — an evolving line of tableware designed to be dynamic, timeless, and contemporary. She began by specializing in mugs and bowls and expanded the line to include full place settings, serving ware, and vases. A few years later, she began working on more complex vessels. These pieces originated on the wheel but were then altered and added to in ways that stretched away from roundness and symmetry. Eventually, handbuilding became Kuh's primary method of working, which she describes as a "gentler, more reciprocal collaboration with clay". Kuh now incorporates slip casting to produce tableware but primarily focuses on one of a kind handbuilt platters, bowls, vases, and sculptural vessels. She loves the tactility of clay and the challenges associated with the making process.
Kuh earned a BA in Visual Art & Art History from Hampshire College and continued her studies in ceramics at The Clay Studio in Philadelphia. Prior to founding ANK Ceramics, she worked as a teaching artist and a studio assistant in Philadelphia and New Hampshire. She is currently based in Portland, Maine.
Workshop Details
Daily Schedule:
Friday, April 28: 9:00 a.m. to 4:00 p.m.
Saturday, April 29: 9:00 a.m. to 4:00 p.m.
Sunday, April 30: 9:00 a.m. to noon
Please arrive at the studio by 8:45 a.m. each day; instruction begins at 9:00 a.m.
The group will break for lunch at 12:30 p.m. on Friday and Saturday.
In this workshop, shake up ways you compose in space. Beginning with slabs, participants will track the transformation of two dimensions into three while considering:
How can a flat shape become a cylinder, sphere, or cone?
How do proportion, volume, and line determine the character of a shape?
How can we use handbuilding to create and disrupt symmetry? 
We will attend to the needs of the clay in the various parts of the process – from building up the foundation of the piece and refining the shape to addressing transitions and details. Workshop participants will make their own vessels and experiment with techniques learned during demonstrations.
Clay, individual workspace, and shelving will be provided. Workshop participants should plan to bring their own tools and packing material to transport greenware with them. See below for a list of materials to bring.
What to Bring
For all workshop participants: 
Banding Wheel
Sharp knife, X-acto or similar
Needle tool
Fettling knife
Scoring tool
Rolling pin
Small container (for joining slip, small yogurt size)
Paintbrush
Ruler, L-square ruler
Sherrill Clay Shredder
Ribs! Any type is fine: plastic, wooden, metal
Notebook and pen or pencil
Packing materials to transport greenware
For those staying on campus:
Sheets for a twin bed
A blanket, comforter, or sleeping bag suitable for a twin bed
Bath towel and toiletries
Housing & Meals
During the workshop, Watershed provides continental breakfast Friday–Sunday and lunch on Friday and Saturday. Vegetarian, gluten free, and dairy free diets can be accommodated.
Workshop participants make their own dinner arrangements. Local restaurants and take-out options are accessible via car.
On-Campus Housing
Watershed offers housing in single occupancy rooms furnished with twin beds for $60 per night. Bathroom facilities are shared but can be used by one person at a time, much like a bathroom in a home. Participants must bring their own sheets, blankets, and bath towels. Pillows and mattress pads are provided. 
Housing is limited to six workshop participants and will be assigned on a first-come, first-served basis.
Those staying overnight at Watershed from April 27 through April 29 should arrive between 3:00 and 5:00 p.m. on the 27th to check in and be shown to their room.
Those staying at Watershed only on April 28 and 29 should go directly to the studio on the morning of the 28th. Watershed staff will show you to your room during the midday workshop break.
Participants may also elect to stay off campus.
Payments & Refunds
The workshop fee and any housing fees are due in full with your registration.
If you need to drop out of the workshop, Watershed will refund your fees, less a $50 processing fee, until 30 days prior to the start of the workshop. For cancellations made after March 27, fees are non-refundable but can be applied to a future Watershed program within the next calendar year.