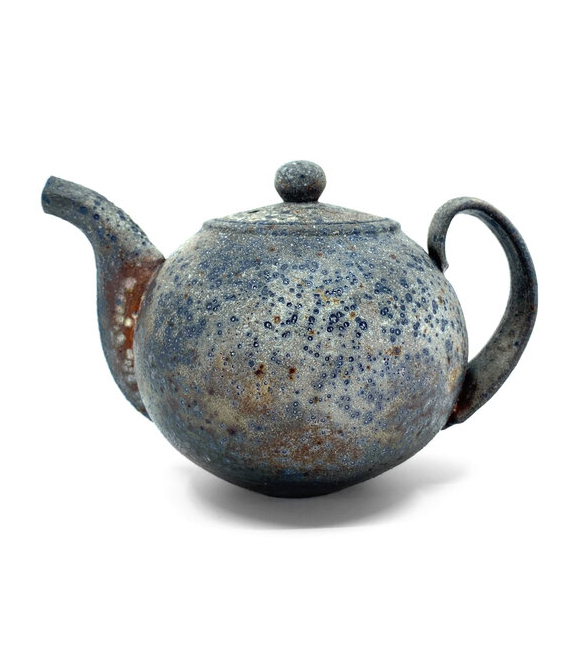 Explore the intricacies and exciting results of firing work in a gas/salt kiln and a gas/soda kiln during this workshop with Stuart Gair. Participants will take part in all aspects of the firings and will have the opportunity to compare and contrast work fired using these methods. Gair will provide guidance and insights throughout the firing process from start to finish. 
The workshop also includes two days in the studio with Stuart while the kilns cool. He will share methods for creating functional and sculptural vessels on and off the wheel and offer individualized instruction.
Dates: August 7-13, 2023
Workshop Fee & Meals: $1,110
Optional Housing: $360-$720
REGISTER
About Stuart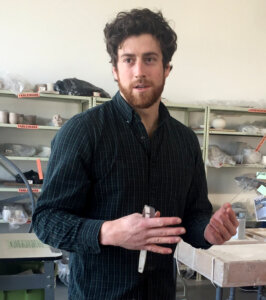 Stuart Gair earned a BA in History from Ohio University and an MFA from the University of Nebraska-Lincoln. Gair has spent time making work and teaching at the Archie Bray Foundation (Helena, MT), Harvard University (Cambridge, MA) as well as Colorado Mountain College (Aspen, CO). Currently, Stuart lives and works as a full time studio artist in Athens, OH, an area rich in clay and ceramic history, where he is exploring alternative ways of firing the soda kiln. The geometric forms he creates are driven by form, function, utility, subtlety, and discovery. Gair hopes that each piece is used and enjoyed whether displayed on a table or in the hands of the user.
Workshop Details & Schedule
Participants will bring bisqued work to fire in the salt kiln and the soda kiln. Early in the workshop, the group will glaze and slip their pieces in preparation for firing. Everyone will take part in the firing process, from wadding and loading work, bricking the doors, and bringing the kilns to temperature to adding salt and soda, unloading, and cleaning the kilns after use. The group will compare, contrast, and discuss the results from each firing.
While the kilns cool, participants will have two days of studio instruction and practice. Gair will share numerous techniques for creating forms that provide a foundation for variations with endless possibilities. Participants of all skill levels can experiment with these techniques and begin to create similar forms in their own style.
Daily Schedule:
Aug 7: Arrive between 4:00 and 6:00 p.m. ; welcome dinner at 6:30 p.m.
Aug 8: Glaze and wad work, load kilns
Aug 9: Fire the gas/salt kiln and gas/soda kiln 
Aug 10 & 11: Studio demonstrations and work time
Aug 12 Unload kilns and discuss results
Aug 13: Clean, pack, and depart by noon
Housing & Meals
Workshop participants may elect to stay on or off campus. See below for accommodation details and prices. 
During the workshop, Watershed provides dinner on arrival day, three meals a day during days 2-6, and breakfast on the final day. Vegetarian, gluten free, and dairy free diets can be accommodated. Please note any dietary needs on your registration form.
Watershed offers housing in single or double occupancy rooms furnished with twin beds. Private bathroom facilities are attached to the private bedrooms. Shared bathroom facilities can be used by one person at a time, much like a bathroom in a home. Participants must provide their own sheets, blankets, and bath towels. Pillows and mattress pads are provided. 
| | |
| --- | --- |
| Accommodation Type | Fee |
| Single occupancy room w/ private bath | $720 |
| Single occupancy room w/ shared bath | $540 |
| Double occupancy room w/ shared bath | $360 |
What to Bring
For all workshop participants:
Approximately ten bisqued pieces (depending on size) in cone 10 clay to fire in the salt kiln and the gas kiln. Participants will each have a maximum 2.4 cubic feet of space in the kilns (or 1.2 cu ft per kiln). We encourage taller, narrower work in order to accommodate more pieces. 
Basic pottery tools
Fine-Toothed Serrated Metal Rib (Sherrill Mud Tools)
Rasp
Sharp cutting knife
Paddle (if you have one)
Hand drying towel
Packing material for transporting greenware (for work made during studio time)
Packing material for transporting fired work
Sturdy closed-toe shoes
Clothing for all weather
Bug spray
Sunscreen
Long pants, ideally made of a non-synthetic fabric
Long sleeved shirt or sweatshirt, ideally made of a non-synthetic fabric
Glazes, wadding, and clay to use during studio practice sessions will be provided.
For those staying on campus:
Sheets for a twin bed
A blanket, comforter, or sleeping bag suitable for a twin bed
Bath towel and toiletries
Flashlight or headlamp
Clothing for all types of weather
Payments & Refunds
A $200 non-refundable deposit is due with registration. Watershed will bill participants in June for the remaining workshop fees and housing fees, as applicable.
If you need to drop out of the workshop, Watershed will refund your fees, less the $200 deposit and a $50 processing fee, until 30 days prior to the start of the workshop. For cancellations made after July 8, fees are non-refundable but can be applied to a future Watershed program within the next calendar year.