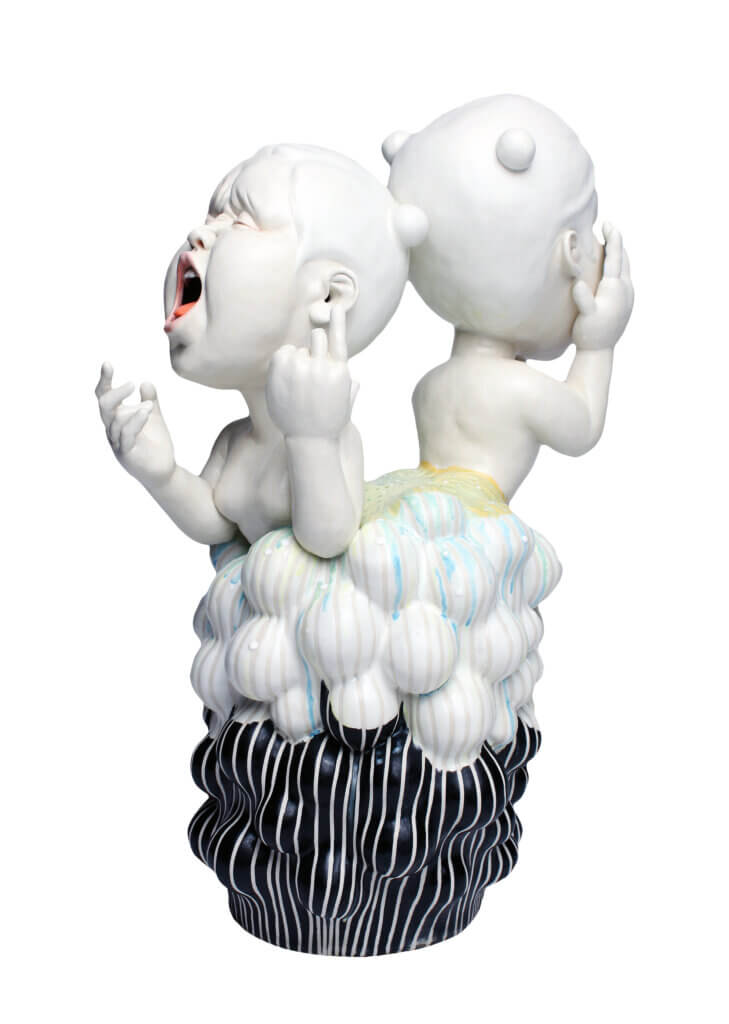 Join Kyungmin Park to learn new techniques for sculpting ceramic heads and faces, with a focus on figurative pieces that can hang on the wall. Kyungmin will share methods she uses to create her own work and offer guidance to participants during studio-based practice. The workshop will cover basic handbuilding methods such as coiling, pinching, and slab building, as well as advanced detailing processes for figurative sculpting. Participants will also explore a variety of underglazing methods to create patterns and color themes in their work. 
Dates: August 16-18, 2023
Workshop Fee & Meals: $520
Optional Housing: $180-360
REGISTER
About Kyungmin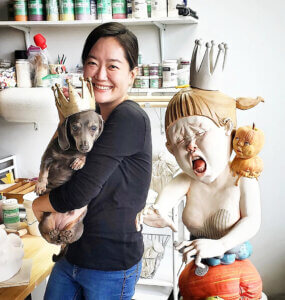 Kyungmin Park is a figurative ceramic sculptor who draws inspiration from childlike perspectives. Contrasting the darker emotions and restricted psyche of adulthood with the boundless consciousness of children, Kyungmin's sculptures confront the viewer with uncomfortable juxtapositions, encouraging reflection upon personal expectations and narratives. Kyungmin largely uses hand-building techniques to construct her figures out of porcelain, a material she prefers for its ability to contrast starkly with bright and colorful decoration.
Originally from South Korea, Kyungmin earned her MFA in Ceramics from the University of Georgia and her BFA from the New York State College of Ceramics at Alfred University. Currently, Kyungmin is Associate Professor of 3D Studio Art at Endicott College in Beverly, MA. She has exhibited nationally and internationally, notably at: the Aqua Art Miami Basel, SOFA Chicago, The Clay Studio (PA), Scripps College Ceramic Annual (CA), Penland School of Crafts (NC), Abel Contemporary, Abmeyer + Wood, Belger Arts Center, Cerbera, Companion, Duane Reed, Eutectic, Kolva-Sulivan, Lacoste Gallery, among many others.
Park has won multiple awards, including the 2016 Emerging Artist of the Year Award from the National Council on Education for the Ceramic Arts (NCECA) and the 2015 Emerging Artist award by Ceramics Monthly Magazine. Kyungmin was invited as a 2017 Guest Artist at the Jingdezhen International Studio in Taoxichuan Ceramic Park, China, and AIR Vallauris in France in 2011 and 2022. She also participated in a short-term residency program in 2018 at the Red Lodge Clay Center, MT, and took part in a Watershed residency in 2016.
Workshop Details & Schedule
August 16 & 17
Breakfast served at 8:30 a.m.
Workshop runs from 9:00 a.m. to 4:00 p.m. with a break for lunch
Dinner served at 6:30 p.m.
August 18

Breakfast served at 8:30 a.m.
Workshop runs from 9:00 a.m. to noon. 
Participants pack up and depart shortly after noon.
The studio will be open outside of workshop hours for participants who feel comfortable working independently on their projects. Staff are available from 9:00 a.m. to 5:00 p.m. for questions and assistance.
Tuition includes clay to use during the workshop session. Participants may take any remaining clay home with them. Individual workspace and shelving will be provided. Workshop participants should plan to bring their own tools and packing material to transport greenware home. See below for a full list of materials.
Housing & Meals
Workshop participants may elect to stay on or off campus. See below for accommodation details and prices. Those staying off campus should select the "meals only" option on their registration. 
During the workshop, Watershed provides three meals a day on August 16 & 17 and breakfast on the 18. Vegetarian, gluten free, and dairy free diets can be accommodated. Please note any dietary needs on your registration form.
Watershed offers housing in single or double occupancy rooms furnished with twin beds. Private bathroom facilities are attached to the private bedrooms. Shared bathroom facilities can be used by one person at a time, much like a bathroom in a home. Participants must provide their own sheets, blankets, and bath towels. Pillows and mattress pads are provided. See the "What to Bring" tab on this page for a complete packing list.
| | |
| --- | --- |
| Accommodation Type | Fee |
| Single occupancy room w/ private bath | $120 per night |
| Single occupancy room w/ shared bath | $90 per night |
| Double occupancy room w/ shared bath | $60 per night |
Participants staying on campus beginning the night of August 15 should arrive between 4:00 and 7:00 pm to check into their rooms. Dinner will not be served that evening but Watershed can provide a list of local restaurants. Participants staying on campus beginning the night of August 16 will be shown to their accommodations during lunch break that day.
What to Bring
For all workshop participants:
Synthetic sponge
Wood rib
Large ribbon loop tool
Double-ended ribbon loop tool
Metal needle tool
Wood modeling tool
Metal scraper rib
Clay cutting wire
X-acto Knife
Detail paint brushes (size 0 &1)
Different sizes of paint brushes for underglaze application
Sherrill Mud Tools Rib: Red (very soft), Size 0
Apron, towels, hand lotions
Your favorite Amaco Velvet or LUG Underglazes
Sturdy closed-toe shoes
Sunscreen
Bug spray
For those staying on campus:
Sheets for a twin bed
A blanket, comforter, or sleeping bag suitable for a twin bed
Bath towel and toiletries
Clothing for all types of weather
Flashlight
 or headlamp (there are no street lights)
Payments & Refunds
The workshop fee and housing or meal fees are due in full with your registration.
If you need to drop out of the workshop, Watershed will refund your fees, less a $50 processing fee, until 30 days prior to the start of the workshop. For cancellations made after July 17, fees are non-refundable but can be applied to a future Watershed program within the next calendar year.