Watershed provides merit-based and need-based financial assistance for artists interested in attending a residency.
Summer Residency Scholarships
Watershed merit scholarships can partially or fully cover the cost of a residency at the Center. Awards range from $500 to $1600 (the full cost of a 2-week session). All artists are eligible to apply for scholarships. To participate in a residency, the only prerequisite is that you are comfortable working independently in a clay studio.
Kiln God Awards are merit scholarships that cover the full cost of housing, fees, and tuition to participate in a 2-week summer residency. Any artist is eligible to apply. Award recipients are paired with a Kiln God donor who funds the session.
Zenobia Award scholarships can fully or partially cover cost of a two-week Watershed residency. The awards are given to artists of color with exceptional talent who are interested in ceramics. The artists need not primarily work in clay but must be comfortable working independently in a clay studio.
Scholarship awards are for summer residency sessions only and are determined with consideration given primarily to merit. A review committee of ceramics professionals makes annual determinations.  Funds cover residency fee-related items (housing in a double room, meals, and studio); there are no cash awards. Artists who are invited to participate as part of an AIA group are eligible for scholarships of up to $500. Award recipients are responsible for the cost of housing upgrades, travel expenses, materials, firings, and packing/shipping of work.
Full scholarship recipients (Kiln God and Zenobia Award recipients) are not eligible for funding again for three summers following an award and may only be fully funded twice in total.
Those applying for Watershed Scholarships, Kiln God Awards and Zenobia Awards should use the following application. Artists applying for a Zenobia Award will also be considered for Kiln God and Watershed Scholarships.
Work-Exchange Scholarships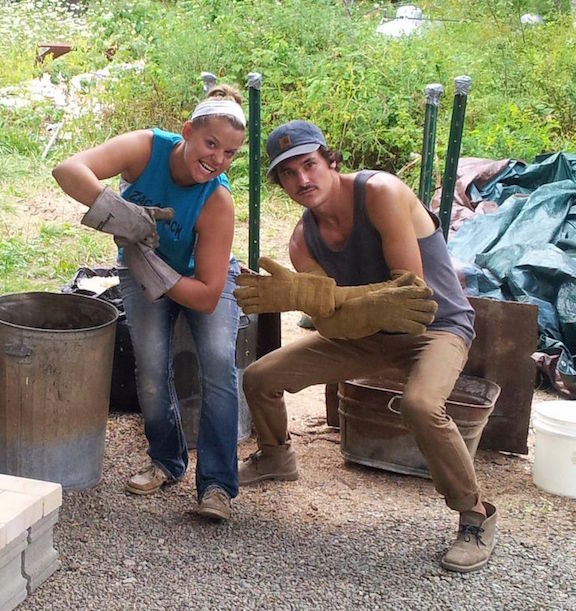 Summer Residency work-exchange scholarships are awarded to applicants based on financial need. In exchange for approximately 3 hours of work per weekday, artists pay a discounted total fee (including residency, room & board) of $900. Invited members of AIA groups are not eligible for work-exchange awards.
The Fall Residency work-exchange scholarship provides a discounted total fee of $950 (including residency, room and board—a discount of 40 percent off the full rate) for the 6-week session in exchange for 16 hours of work per week. Work may include maintenance work on the Watershed grounds or in the studio or some clerical/office work. Participants pay separately for food, materials, and firings.
Farm & Fire Fellowship

Watershed is uniquely situated in a small agricultural valley surrounded by organic farms. We have partnered with our neighbors at Dandelion Spring Farm to offer a fellowship program that enables students who are passionate about ceramic art and organic farming to explore their dual interests during a 2.5 week internship. Fellows gain hands-on experience in the Watershed studio and on the farm while greatly contributing to the daily operation of both programs.   
School-Funded Assistantships
Several colleges and universities collaborate with Watershed to provide funded assistantships to their students. The school pays a work-exchange residency fee directly to Watershed, and the student participates in the residency free of charge in exchange for 15 hours of work per week.  Click here to learn more about how the assistantship program works. Faculty members interested in setting up a funded assistantship with their school are encouraged to contact Watershed. 
If you are a student who has been chosen by their school to attend a summer residency session, please follow the link below to register. Watershed will notify students by early April of their session placement. Please note: funded assistants who attend Session III are required to work over the Salad Days weekend.