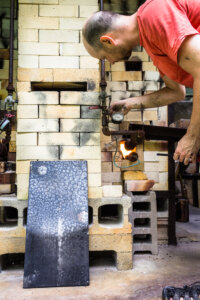 Everything is better with a dash of salt! Join Watershed Studio Manager Reeder Fahnestock to learn about the effects created by the addition of salt to a high-fire kiln environment. We will fire Watershed's 18 cubic foot gas-salt kiln, introducing sodium in the final stages of firing.
Workshop Dates:

April 30 & May 1, with kiln unload May 7, 2022

Optional glaze workshop: April 29

Workshop Fee: $285
Optional Glaze Workshop Fee: $25
Optional Housing: $60 per night
Workshop Details
The Dash of Salt Workshop will cover:
An introduction to the history of salt firing 
How to fire Watershed's salt kiln, including loading, safety, and bricking up the door
How different clays, slips, and glazes affect the finished appearance of ceramics when exposed to sodium vapor
This workshop also serves as an orientation for local artists interested in renting the Watershed salt kiln for future use.
An optional glaze workshop will be offered on Friday evening for those wanting to use Watershed's stock glazes. These cone ten glazes have been selected for their suitability in atmospheric firing environments on both stoneware and porcelain. Reeder will discuss individual glazes, application methods and the results that can be expected from different slips and glazes.
What to Bring
The Watershed salt kiln is approximately 18 cu ft., allowing for approximately 3 cu ft of stacking space per person.
All work must be cone 10 stoneware or porcelain.
Work should be bisque fired and glazed in advance, unless you are attending the glaze workshop, and should not exceed eight inches in any dimension.
Smaller work is encouraged to fit between larger pieces.
Housing & Food
Watershed offers a limited number of single occupancy rooms with shared bath facilities during the workshop for $60 per night.
Register for housing by selecting the option on your registration form. Rooms will be assigned on a first-come, first-served basis.
Rooms are furnished with twin beds, pillows, mattress pads, and storage for personal belongings. Participants should bring sheets, comforters or sleeping bags, and towels with them.
Watershed will provide coffee and baked goods during the workshop. Participants will make their own lunch and dinner arrangements and may use Watershed's refrigerator and kitchenette in the studio.
Schedule
Friday, April 29, 2022
5:00 pm

Optional Glaze Workshop
Arrive with bisque ware ready to glaze (pre-waxed if so needed). Discussion of Watershed stock glazes, including application advice, followed by time for questions and answers.
Glazing until finished
Saturday, April 30

9:00 a.m.

Loading and Candling
All participants should arrive with work glazed and ready to load.
We will discuss the variables involved in stacking the kilns followed by a Q &A
This will be followed by time dedicated to wadding work for the salt kiln.
Participants will all assist in loading the kiln and bricking up the door.
The kiln will be lit and candled over night.
Sunday, May 1

8:00 am
Kiln Firing
While participants are welcome to return to campus earlier, all participants should arrive no later than 8:00 am. We will fire the kiln throughout the course of the day with completion occurring sometime in the early evening (6:00/7:00 pm). Throughout the day, Reed will provide information regarding the various stages of firing, including body and glaze reduction cycles, as well as the introduction of salt to the kiln. All participants will contribute to the firing process.
Saturday, May 7

10:00 am
Unloading
We will allow ample time for examining, comparing and discussing results. Please plan on 1 hour following the discussion to assist in cleaning the kiln and the shelves.
Payments & Refunds
The $285 workshop fee and any housing fees are due in full with your registration.
If you need to drop out of the workshop, Watershed will refund your fees, less a $50 processing fee, until 30 days prior to the start of the workshop. For cancellations made after after March 30, your fees can be applied to a future Watershed program within the next calendar year.