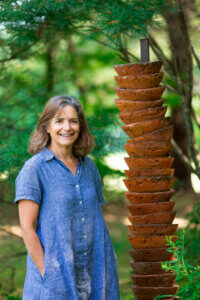 Watershed Center for the Ceramic Arts Board of Trustees announces that Executive Director Fran Rudoff will retire in early 2023.
Rudoff began her tenure as Watershed's executive director in 2013. During her time leading the organization, she spearheaded substantial improvements and additions to the campus. Under her guidance, the Center's Watershed NOW capital campaign has enabled the organization to open a new gallery space; create year-round offices for staff; host outdoor installations on 22 newly-acquired acres; build a Studio Annex, complete with a wood shop and workshop space; offer new housing for staff; and construct Watershed's new 7,500 square foot Windgate Studio, the cornerstone of the capital campaign. 
In addition to these transformative campus changes, Watershed's assets have grown significantly under Rudoff's leadership, $1.2 million in 2013 to over $5 million in 2021, in addition to a $3 million operating endowment. The organization now offers more residency and workshop programs and supports more artists with scholarships than ever before. 
Rudoff has also deepened Watershed's commitment to antiracism, diversity, equity, and inclusion. She worked steadily to increase access to artist programs by creating new funding streams, developing outreach initiatives, and building relationships with partner organizations. A significant partnership with The Color Network (TCN) has resulted in two residency sessions funded by the National Endowment for the Arts. Nearly thirty artists of color who are taking part in TCN's mentorship program convened on the Watershed campus in 2021 and 2022 to work together in person and grow their creative practices. Watershed also serves as TCN's fiscal sponsor as they grow from a national affiliation of artists into an independent nonprofit. 
"In my years of experience with non-profit boards, I've never met a more competent and energized executive director than Fran Rudoff," shares Watershed Board President Bernie Toale. "Fran easily juggles nine things at one time with efficiency and grace. Her achievements over the past ten years are hard to number, but the crowning glory is the construction of our new $3 million Windgate Studio built during COVID lockdown." 
Prior to her time at Watershed, Rudoff worked for the State of Maine in regional planning and resource management, followed by nearly fifteen years as Executive Director of KIDS Consortium, a nonprofit that supported service learning opportunities for Maine students. Rudoff brought her expertise in education to bear on Watershed's K-12 outreach programs by creating new professional development opportunities for Maine art teachers to hone their ceramics skills and reach more students. The popular grant-funded programs have positively impacted the artistic development of thousands of Maine youth.
All of these accomplishments are buttressed by Rudoff's abiding care for Watershed's community. While the organization is based in the small town of Edgecomb, Watershed's extended network of friends, alumni, and supporters stretches from coast to coast. Rudoff forged lasting and meaningful connections with artists, collectors, and supporters around the country. 
"It has been my privilege to steward Watershed over the past decade," she shared. "The organization's mission and focus on artists is more important than ever. I am filled with gratitude for the many professional relationships and friendships that have become so important to me and for the opportunity to contribute to Watershed's growth."
The search process for a new executive director has begun, with an expectation of having a new leader in place at the beginning of 2023. The full position description and application information can be found here.
About Watershed
Founded in 1986 on the site of a former brick factory, Watershed Center for the Ceramic Arts' mission is to provide artists with time and space to explore ideas with clay. The organization was founded by artists with a common vision: to offer a supportive and enriching environment where artists could fully engage in creative practice while working with clay. This vision meets a critical need in the clay community and remains at the heart of Watershed's programs.
The organization's internationally-recognized residency model prioritizes the development of creative community; artists work alongside one another in an open-concept studio, collaborate on kiln firings, share meals, and forge lasting personal and professional connections. In addition to the residency program, Watershed's extensive atmospheric wood and gas kilns draw artists from the region, and guest artist workshops offer hands-on learning experiences led by nationally-known ceramists. Watershed's K-12 education program provides popular professional development workshops for Maine art educators and connects teaching artists with regional schools.