Watershed residencies offer extended time in an open-studio setting with other artists, providing space to explore, experiment and reflect. Watershed has something to offer all artists working in clay—from students to established professionals. Watershed welcomes artists with diverse approaches and backgrounds who are able to work independently in a studio environment. A base understanding and knowledge of working with clay and ceramic equipment is expected of all residents. As you consider residency options, please keep in mind that Watershed does not provide formal instruction during summer and fall residency sessions (and residents are not asked to teach others). However, Watershed does offer workshops that provide formal instruction during spring and fall months.
Summer Residency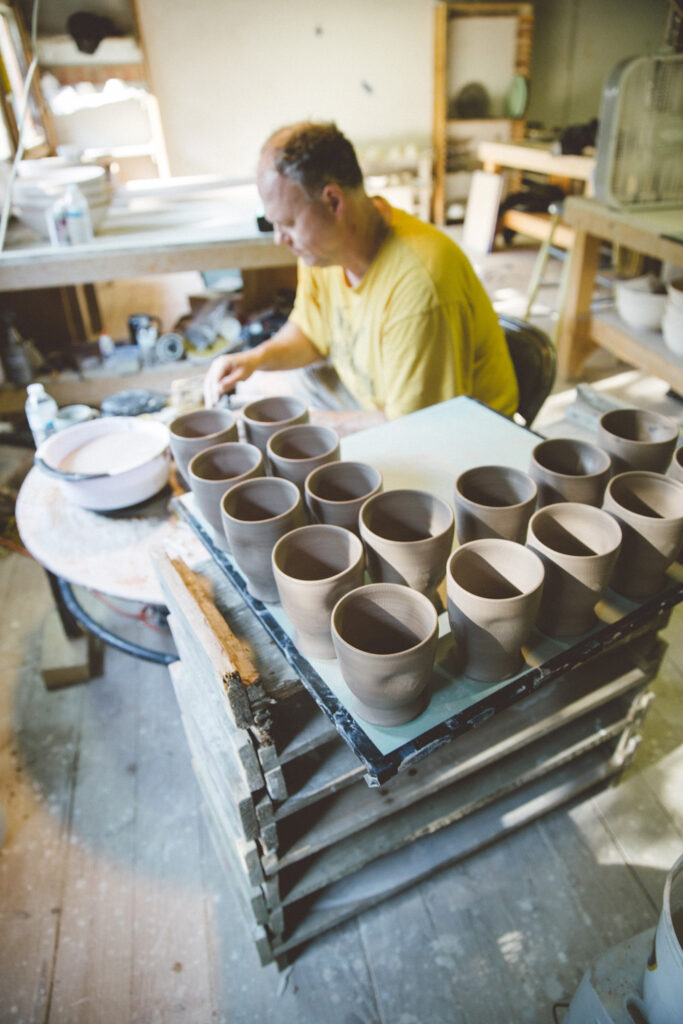 Watershed offers summer residency sessions that range in length from 1 to 3 weeks. A group of up to 15 artists-in-residence work in our open-concept studio space with 24-hour access to the facilities. Participating artists register online, with sessions filling on a first-come, first-served basis.
Many of Watershed's summer sessions are organized by artists—who propose a theme related to clay and recruit four to eight other artists to join them. The balance of participants in that session (seven to ten more artists) register through Watershed's online process, drawn by a shared interest in the session theme. Once in residence, all of the session's artists work side-by-side in the Watershed studios, regardless of how they registered. The summer session housing fee covers room and board with delicious meals prepared on site from locally sourced ingredients. The residency fee includes use of the studio and access to Watershed's 32-acre campus, but firing and materials are paid for separately. Merit-based and need-based scholarships are available for those who apply for financial aid. Visit Watershed's summer residency frequently asked questions page for further information.
Learn more about the Summer Residency
Fall Residency

A month-long residency held each fall provides ample time to explore new ideas and produce a body of work. A small group of artists form a dynamic environment ripe for creative interaction and self-directed exploration. This is a unique opportunity for artists to immerse themselves in the studio, free from customary distractions, while taking advantage of Watershed's extensive facilities. Fall residents may choose to participate in community firings and workshops held on campus during their stay. Fall residents have full access to the Watershed kitchen but provide their own food and cook for themselves.
Learn more about the Fall Residency

Pre-Session
A great introduction to the Watershed experience, Pre-Session offers an opportunity to trade labor for free room, board and studio time. Up to 20 volunteer artists work six hours each weekday for Watershed–repairing and cleaning studios, equipment, and resident rooms in preparation for the summer season. Meals are provided, and Pre-Session volunteers have their late afternoons, nights and weekend time free to work in the studio. Materials and firing costs are paid for separately. Annual deadline to apply for Pre-Session is March 31.
Please note, Pre-Session will not be offered in spring 2020.