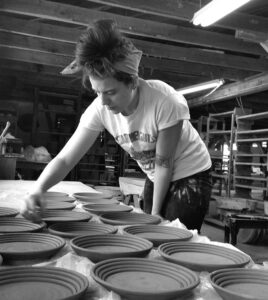 Liz Hafey spent last summer at Watershed, making over 500 plates for this year's Salad Days.  Liz completed her BFA at Massachusetts College of Art in 2013 and earned a post baccalaureate certificate from UMass Darmouth in 2014. She spent the following year participating in residencies at Truro Center for the Arts in Massachusetts and The Cub Creek Foundation in Virginia.  She also apprenticed with Andrew Appleby, a master potter in Orkney, Scotland. 
The relationship between the natural world and the built environment is central to Liz's work. Through her studio practice, she strives to reinterpret the impact of nature's influence on human-made structures and objects.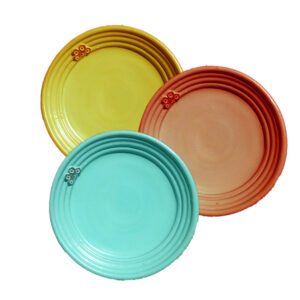 From a young age, Liz was fascinated by industrial and urban decay she found in and around her home town in Connecticut. "Growing up on the New England coast, I encountered rusty washed-up boats and buoys on the beach, houses overgrown with grasses and fractured by tree roots," she explains. "To me, seeing man-made environments overtaken by nature is a beautiful version of alchemy."
During her time at Watershed, Liz was able to continue exploring the Atlantic coastline and found inspiration for her plates in the colors and forms of discarded lobster pots and vintage boat hulls scattered along the shore.
At first glance, Liz's plates evoke the bright color palette of 1950's mass-produced kitchen wares and vehicles.  However, the fiesta-ware feel of the surfaces is interrupted by Liz's decorative details that expose Watershed's terracotta earthenware clay, highlighting the handmade nature of the work and referencing the rusty brown of antique rivets and bolts.
Meet Liz and take home one of her colorful plates on Salad Days, Saturday, July 9 and visit her website to learn more about her work.