As 2020 Pride draws to a close, we are thinking about members of the LGBTQ community who participated in Watershed's workshop program in the '90's and early '00's for people living with HIV/AIDS. In this guest post, Watershed co-founder Lynn Duryea recalls the roots and impact of the program, as well as memories of the people who took part.
Twenty-eight years ago this month, I had one of the most profound experiences of my life: eight days spent at Watershed with a group of people with HIV/AIDS. Coming from Massachusetts and Maine, graciously funded by their AIDS service organizations, these folks were willing to join in the experiment to see how community and creativity could sustain them, no matter what their circumstances. The image of our banquet the last evening of that session is evidence of the energy and connection between workshop participants, Watershed resident artists, and staff.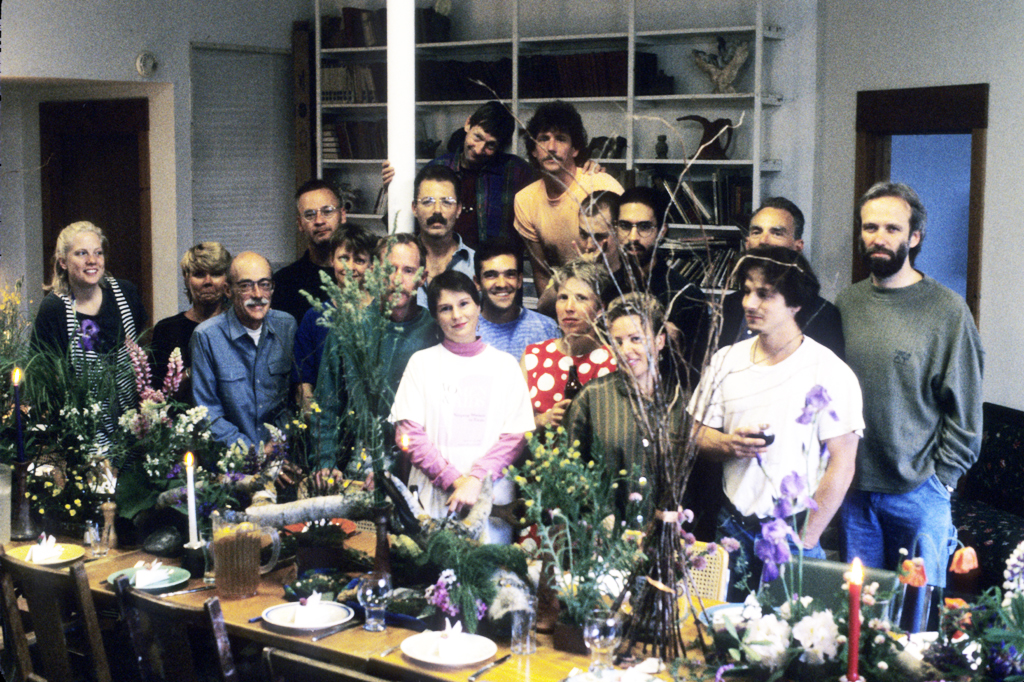 I was inspired to initiate this program during a visit to Watershed the previous summer when Gustavo Gonzales, an art therapist from New York, had been in residence with a group of people living with AIDS. I am forever grateful to Gustavo for laying the groundwork for this program that became an important part of Watershed until 2004. Next year marks the 30th anniversary of that initial workshop season, and we will be sharing more of the history and development of the program. Additional thanks go to Mackenzie Harris, a therapist, and Ellen Hirshberg, a visual artist, who worked with me to guide the program – and to the many Watershed resident artists and staff who joined with us in support. Sadly most of the participants of that 1992 workshop died long ago, but their images and memories are very much a part of Watershed's history. They are not forgotten.
Here is what workshop participant Patrick Clark had to say about his time at Watershed that year: "I shed many layers of my outer casing during this workshop. I wrote, I painted, I made a few ceramic posts. I returned home vulnerable and with humility, more in touch with my being than I thought possible."
Further Information on the program: