While Salad Days won't take place on campus this year, we can still offer our community some delicious salad dishes to make and savor at home. The following recipes come courtesy of Marguerite Grifka, a talented chef from the San Diego area who was slated to cook at Watershed in 2020.
Please share your Salad Days salads on social media! Tag them with #watershedsaladdays to add your culinary creations to our virtual picnic.
Fennel, Lobster, and Corn Salad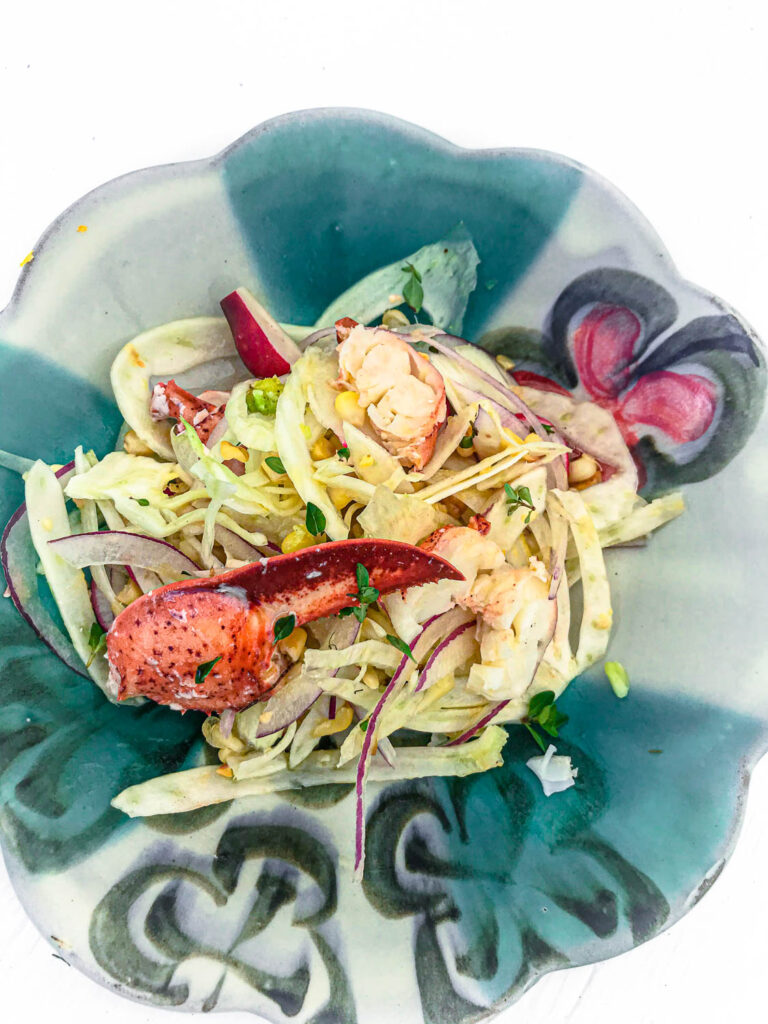 Serves 4 as a side dish or starter
Ingredients:
1      Small (3") bulb of fennel, trimmed of fronds
2-3   Radishes
¼      Red onion
2       Corn ears
6 oz   Cooked lobster meat, coarsely chopped
1       Lemon
2-3T Mayonnaise
2T     Chopped fresh thyme
Directions: Remove kernels from the corn cob and sauté in a teaspoon of olive oil for 3-5 minutes until some kernels are nicely browned. Place in a mixing bowl. Thinly slice fennel, radishes, and red onion (a Japanese mandolin works great for this) and add to bowl. Zest half the lemon into the bowl. Add the juice of half the lemon, mayo, thyme, a generous pinch of salt, and a good grinding of black pepper. Toss to combine and taste. Adjust lemon and seasoning as necessary.
Kale, Quinoa, and Cranberry Salad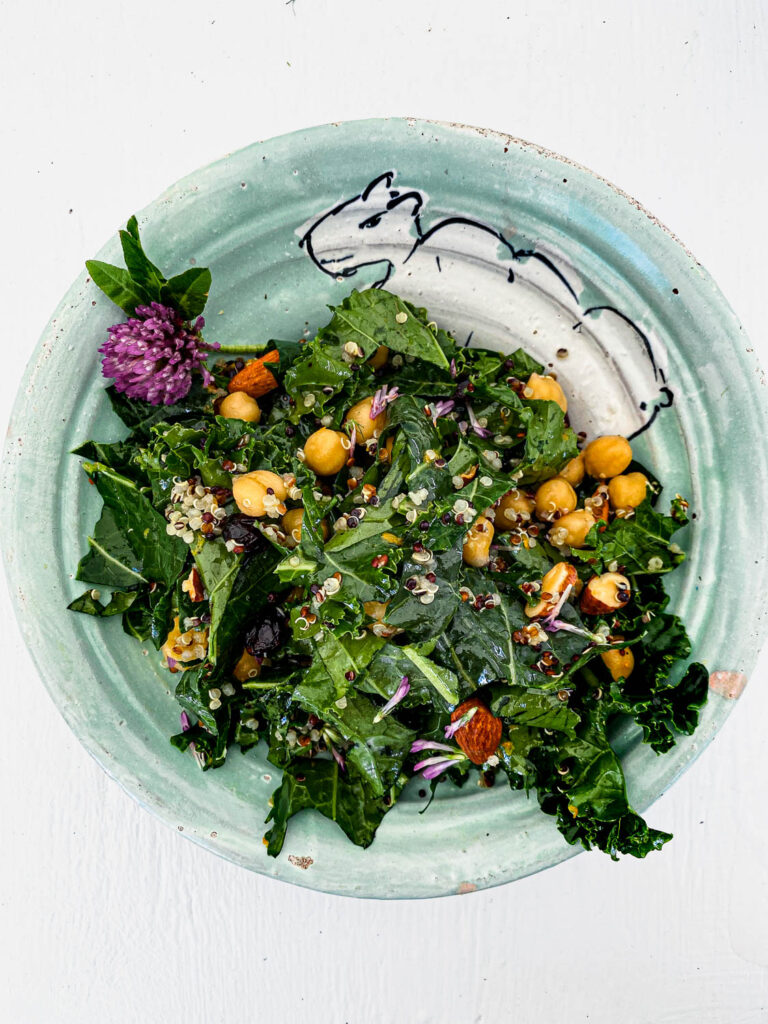 Ingredients:
4 cups    Kale largest stem removed, shredded a ¼" wide
2 cups    Cooked quinoa
1½ cups Cooked chick peas (one can drained)
½ cup     Dried sweetened cranberries
¼ cup     Almonds, sliced and toasted
1 bunch Parsley, chopped
4            Green onions, chopped
½ t         Salt
Citrus Vinaigrette, to taste (see recipe below)
Directions: Combine all, toss and season with salt and pepper to taste. For best results, let sit for at least an hour before serving.
Citrus Vinaigrette
3 T  Lemon juice
½    Orange, juiced
1 t  Zest from the orange, grated
1 t  Garlic, minced
2 t  Dijon mustard
½ cup Olive oil
½ t  Salt & black pepper
Add all ingredients into a jar and shake well, or combine in a blender and pulse until mixed. Use immediately or keep for a month in the fridge. This is a great one to make ahead and keep around. Let sit out a room temp 15-20 minutes to warm olive oil before using.
Arugula, Blueberries, and Chicken Salad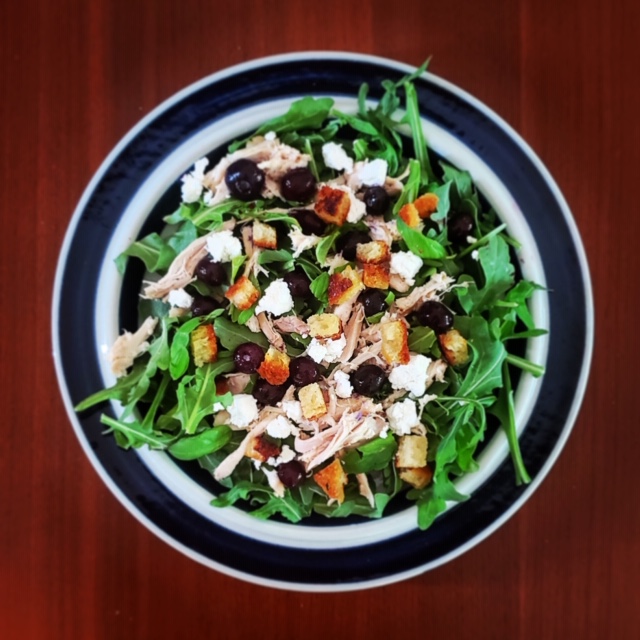 Serves 4 as a side dish, 2 as a main dish
Ingredients:
4 oz     Arugula
4 oz     Roast chicken, shredded
¼ cup  Loose basil leaves
½ cup  Fresh wild Maine blueberries (frozen works great too)
2 oz.    Goat cheese, broken into chunks
1 cup   Croutons (this is a great opportunity to use up stale bread and make your own)
Salt and fresh ground pepper
Watershed's Classic Balsamic Vinaigrette (see below)
Directions: Combine the arugula, croutons, half the chicken, goat cheese, and blueberries. Toss with ½ the dressing, a few grinds of fresh pepper, and a sprinkle of salt. Distribute the remaining chicken, cheese and berries across the top and drizzle with a little more dressing.
Watershed's Balsamic Dressing (as remembered by Reba of Hatchet Cove Farm)
1        Shallot or garlic clove
2 T     Balsamic vinegar
1 T     Lemon juice
2 t     Dijon mustard
1 t     Maple syrup or other sweetener
½ cup Extra virgin olive oil
¼ t     Salt, or to taste
Freshly ground black pepper
4 to 5 Drops of hot sauce (optional)
Directions: Place peeled shallot or garlic in the food processor or blender, and mince.  Add the remaining ingredients and process until emulsified, 1 to 2 minutes. Taste and season with additional salt, if needed, along with black pepper and hot sauce.
To mix by hand, place minced shallot or garlic, vinegar, lemon juice, mustard, and sweetener in a bowl. Slowly whisk in olive oil.  Taste and adjust seasonings.