Artist Whitney Forsyth shares her plans and reasons for organizing a residency session at Watershed.  Spots are still available for those interested in joining the group from July 23 to August 4, 2017.  Additional participating artists include Kate Dameron, Cathryn Thomas, Allison Lackner, Nancy Andrasko, Shawn Phillips, Beth Edwards, and Mike Teal.  Learn more and register.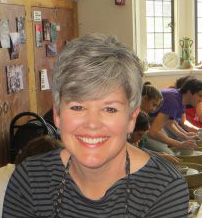 My first visit to Watershed was in 2008 when I was invited to attend an AIA session led by Virginia Scotchie. It was a meaningful time full of laughter, relationships, food, hospitality and tons of clay. The studio was inviting and productive. Hearing and smelling the rain through the open screen windows in the studio was refreshing and calm. It was a time for me to refocus my studio practice with a wonderful new family of clay artists.
I have always wanted to return to Watershed for another residency, but the timing had not been right. Last year I connected with Watershed board member Gretchen Keyworth, who travelled to Tulsa, Oklahoma with a group of Smithsonian Renwick Collectors to see what was happening in contemporary craft in our city. When we met she made the Watershed connection with me knowing I had been to a residency there, which led me to finally propose an AIA session.
I gathered a group of Tulsa based clay artists that I know through teaching at The University of Tulsa and interacting within the larger Tulsa art community to join me at Watershed this summer. We are a diverse group of clay artists from sculptors to potters who care about clay in our lives and our community. We have witnessed a recent transformation in the Tulsa art community through the revitalization of our downtown and arts district. As clay artists we are actively looking for ways to make a difference in this thriving art community, through teaching, making and exhibiting our own work, and participating in dialogue that might lead to new community clay opportunities.
My hope is that artists who live in other communities that are on the verge of or have experienced this same kind of revitalization will join with us to share their ideas and efforts. We are excited to see more clay in Tulsa in the future, in education, museums, galleries, art centers and public spaces and to find creative ways to make this happen. We are passionate about our studio work, each other, our art community and would love to spend time with other clay artists who share the same enthusiasm and experiences from different places in the US.
Click here to learn more about joining this session of artists at Watershed.