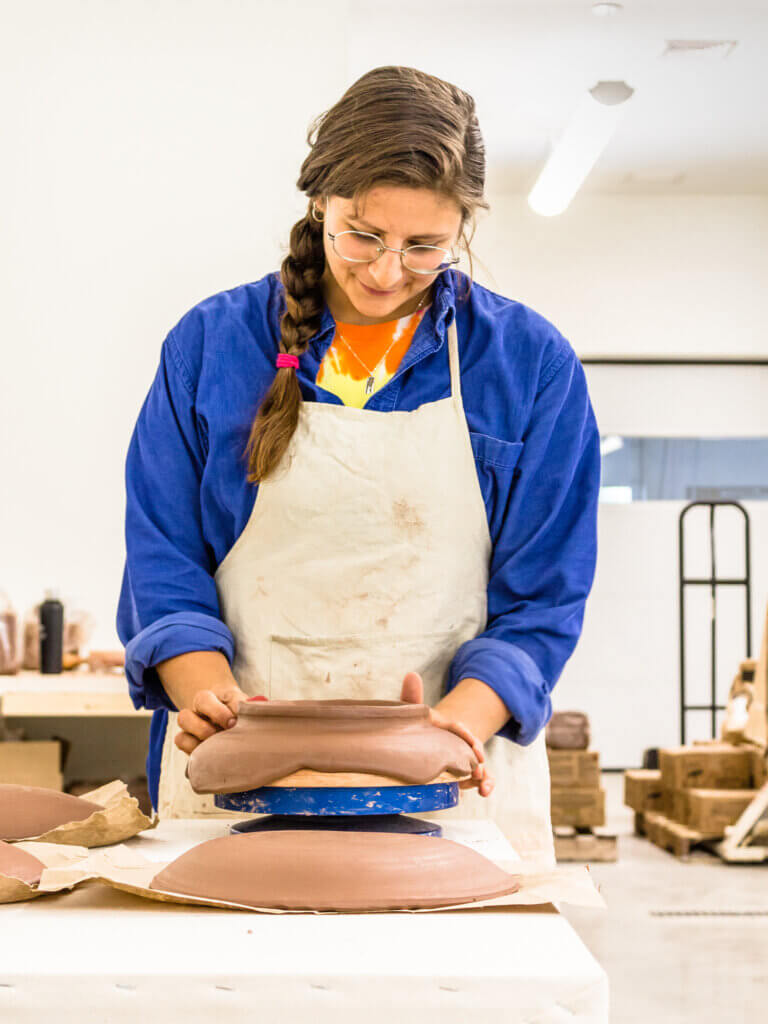 During the early days of the pandemic, 2022 Salad Days Artist Grace Tessein found herself seeking opportunities to spend time in nature. While hiking near her home in Baton Rouge, Louisiana, she collected broken eggshells from hatched birds, feathers, animal bone fragments, flowers, and leaves. Tessein illustrated the surfaces of her ceramic work with the items found on these excursions and imagined that this process would translate well to Salad Days plates. She proposed exploring the paths and trails of Maine and creating plates with imagery tied to the area.
While we expected Tessein would develop a catalog of regional imagery, we never imagined each of her plates would be completely unique! In our interview below, Grace shares more about her process, memories from her months at Watershed spent making 400 plates, and wise advice on noticing, slowing down, and appreciating the natural world.
Watershed: What was your inspiration for your plate design and what do you love most about the finished plates?
Grace Tessein: I wanted to make plates that felt sturdy, durable and meant for use. I wanted the shapes of the plates to be free-form and organic, with drawings that represent the plant and animal life that occupies Maine. I love that no two plates are exactly alike. I've never been great at or satisfied by making pots that all look the same, so it was nice to embrace that aspect and run with it.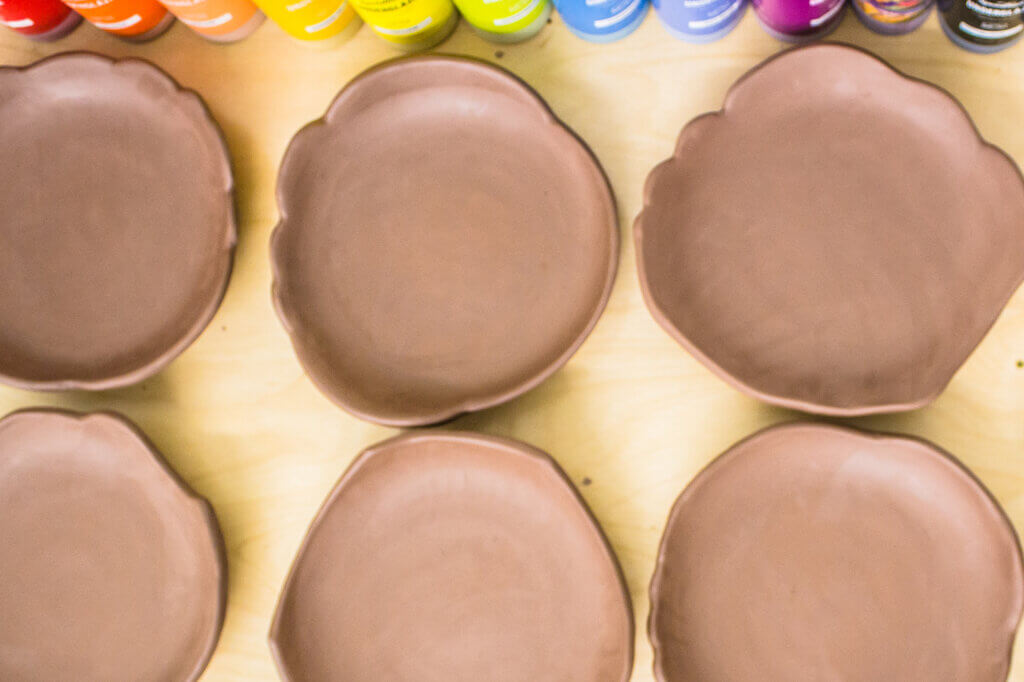 WS: How did you approach the plate making process?
GT: I came into the residency with a stronger background in production food service than production pottery. Working in a bakery taught me a great deal about time management, organization, controlled repeated movement, and patience, all of which I brought into the plate making process. I used paper templates to cut out about thirty slabs of clay a week. I draped the slabs over bisque molds and added a coil for the foot. Once the plates could release from the mold, I cleaned them up and stored them in plastic lidded tubs until I could slip and draw on them. 
WS: What was the most rewarding part of your experience as the Salad Days Artist?
GT: The point when I realized that I wasn't going to fail was pretty rewarding! I was really unsure of my abilities going into this. I sometimes feel like an imposter in functional ceramics because it wasn't how I entered into the medium. It sort of crept into my art practice in grad school and just never left. The greatest reward was figuring out my capabilities as a potter.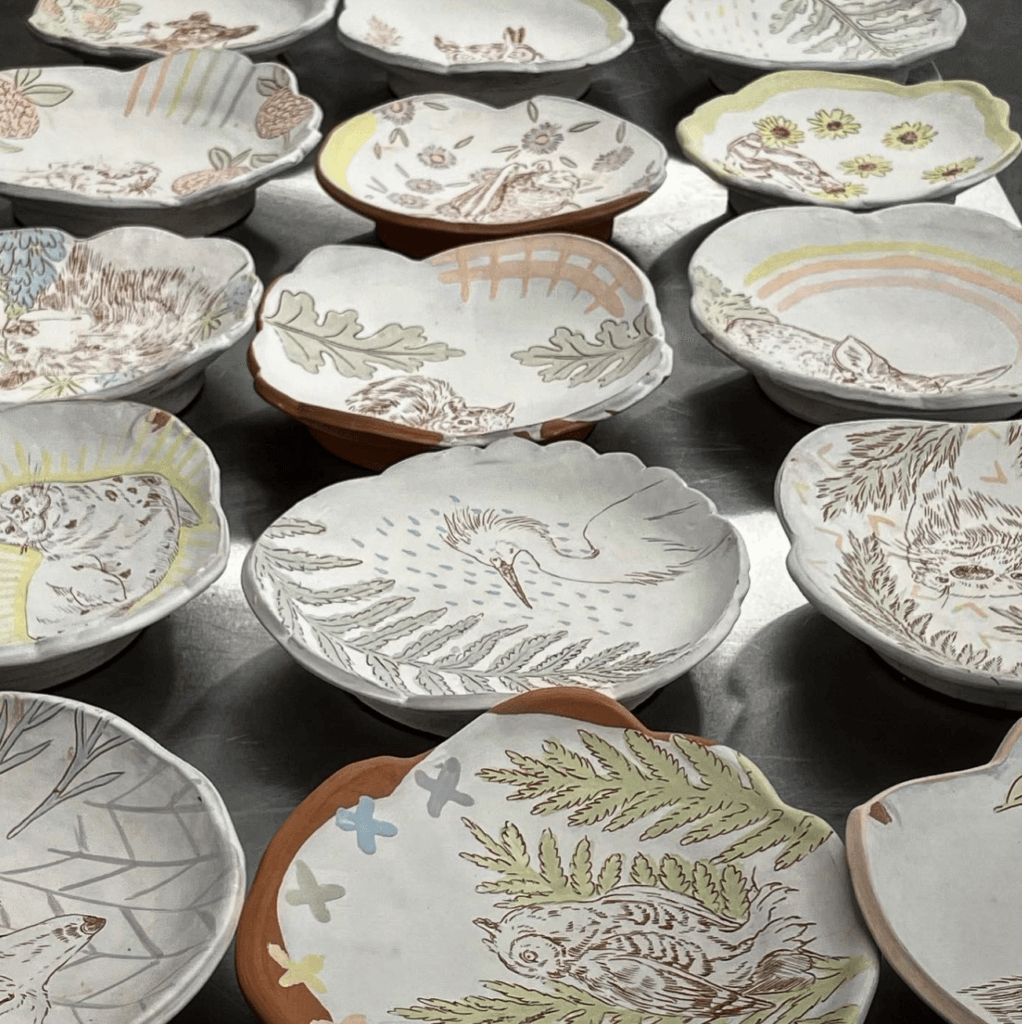 WS: What was the most challenging aspect of producing a large quantity of plates?
GT: About half way through when the process felt redundant, I noticed I was slowing down. Doing the same thing day after day to meet my weekly quota was not sustainable. I needed to switch things up to make it interesting again. So I made some different drawings, took more walks in the woods, and found new inspiration for the plates.
WS: In what ways did the experience impact your current work or practice?
GT: I've become more efficient in the studio and more confident when making large quantities work. I used to be concerned about all the "what if's" in ceramics but I've let go of a lot of the worry. It was freeing in that way; I trust myself more and don't nitpick my work as much as I did before.
WS: What other artists' work do you admire and why?
GT: [2021 Watershed seasonal staff members] August Lantz, Sophia Larsen, and Sarah German! I've always found it fascinating to live and work so closely with other artists. Being at Watershed with these folks inspired me.
WS: What was your favorite part of being in Maine for an extended time? Was there anything that stuck with you or inspired you about Maine or Watershed when you got home?
GT: The sounds of coyotes and the barred owls at night, and the quiet.
WS: What advice would you give to future Salad Days Artists?
GT: Touch the spotted touch-me-nots. Take time to feed the calves [next door at Straw's Farm], they will remember you and come running over for snacks when they see you, like very big dogs!
When the moon is full and the sky is clear, you can walk back up the hill [from the studio] without a flashlight and it's magical. When the moon is new, and the sky is clear, lay in the grass and you can see every star.
Ask for help when you need it.
Purchase your 2022 Salad Days plate tickets online now and select a plate by Grace Tessein at the fundraiser on July 9. Plates are limited and tickets will only be available online in advance.