Join us for Salad Days 2017 on Saturday, July 8!
On the second Saturday of July each year, hundreds of people come to the Watershed campus for a memorable picnic—and carry home one of 550 hand-crafted plates as a souvenir of this special day. The plates are created by a dedicated artist-in-residence who spends the summer at Watershed making 550 plates for the Salad Days festival.
Visitors pick out a favorite plate and load it up with a delicious array of local foods—breads, locally sourced salads, and desserts—all prepared by area restaurants and Watershed's cooks. In addition to the picnic lunch, Salad Days includes live music, artist demos, a ceramics exhibition, and a pottery sale of fine-crafted ceramics made by Watershed artists from around the country.
You may purchase Salad Days tickets in advance or at Watershed during the event. Tickets are $40 and include lunch and a handmade plate by Kurt Anderson. Children five and under may attend for free, but do not receive a plate. 
Pre-purchase your Salad Days tickets and skip the registration line! New this year: By purchasing your ticket online, you can go directly to the plate tent and choose your favorite plate. Find details in your ticket purchase email confirmation. 
BUY TICKETS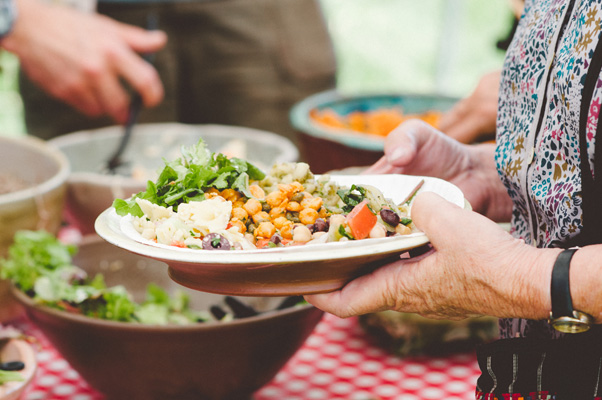 Many area farms, restaurants and other businesses contribute to the success of this annual event—which provides important funds to keep Watershed offering its ceramic art programs. For more information about helping to sponsor this signature event, please contact us at (207) 882-6075 or info@watershedceramics.org.